Spain sets Felipe on path to throne
Spain set its future king Felipe VI on the path to the throne yesterday, launching an unprecedented, possibly weeks-long handover of the crown in an economically troubled, divided realm.
A day after King Juan Carlos announced he is ending a 39-year reign that guided Spain from dictatorship to democracy, the government begins the process of replacing the monarch for the first time in the post-Franco history.
Spanish Prime Minister Mariano Rajoy was due to preside over an extraordinary Cabinet meeting at midday yesterday to draw up a draft abdication law, which must then be approved by parliament.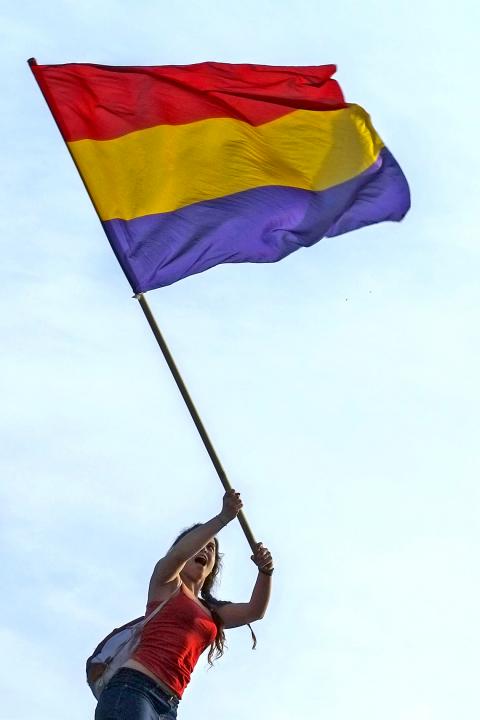 A woman waves a republican flag at a demonstration in Madrid against Spain's monarchy following the abdication of King Juan Carlos on Monday.
Photo: AFP
The law, which could take four weeks to be approved according to Spanish media, will draw the curtain on the 76-year-old king's rule, dogged by scandals in the twilight of his reign. At the same time, it will clear the throne for his son, Crown Prince Felipe, a 1.98m tall former Olympic yachtsman, and for his future queen Letizia, a glamorous former television news presenter.
In a televised address to the nation, Juan Carlos said the economic crisis had awakened a "desire for renewal, to overcome and correct mistakes and open the way to a decidedly better future."
"Today, a younger generation deserves to step into the front line, with new energies," said the monarch, looking relaxed in a gray suit and green tie. "For all these reasons... I have decided to end my reign."
Juan Carlos was widely respected for smoothing Spain's transition to democracy after the death of General Francisco Franco in 1975, most famously facing down an attempted military coup in February 1981, but gaffes and family scandals later slashed his popularity.
Many Spaniards were outraged when they discovered the king took a luxury elephant-hunting trip to Botswana in 2012 as they struggled to find jobs in a recession.
Resentment over the monarchy grew when the king's elder daughter, Cristina, was named a suspect in relation to her husband Inaki Urdangarin's allegedly corrupt business practices.
In a study by pollster Sigma Dos published in January, support for the king fell to 41 percent, while those wanting him to abdicate in favor of Felipe surged to 62 percent.
Most worryingly for royalists, the same survey found only 49 percent approved of the monarchy itself.
"I would like for us Spanish people to be able to choose whether we want a monarchy or a republic. The monarchy is obsolete," said Alejandro Ricas, a 19-year-old student.
"There will be tension, there will be difficult times, but the prince just has to demonstrate that he is capable, because he is. He has a clean record, is fair, hard working. You can't ask for more," royal biographer Cesar del al Lama said. "He will not be weighed down like the king by having a corrupt son-in-law. He will not make a mistake like the Botswana hunting trip."
The king has called Felipe, who was schooled for his future role as monarch in the three branches of the armed forces and during studies abroad, the "best prepared" heir to the Spanish throne in history.
He kept him at his side on the night of Feb. 23, 1981, when soldiers firing shots over the heads of lawmakers seized parliament in a bid to re-establish a military regime.
Juan Carlos appeared live on television in military uniform and ordered the coup plotters back to their barracks, a move that cemented his image as the guarantor of Spain's young democracy.
"It is a difficult time, but the prince has had the best preparation since the day he was born to lead at this moment," said Fermin Urbiola, a journalist who has written several books on the king.
Comments will be moderated. Keep comments relevant to the article. Remarks containing abusive and obscene language, personal attacks of any kind or promotion will be removed and the user banned. Final decision will be at the discretion of the Taipei Times.