Putin to 'respect' Ukraine vote
PRAYING FOR PEACE: Ukrainian leaders planned to seek divine aid ahead of today's vote, while former US secretary of state Madeleine Albright paid a visit to the nation
Ukraine's interim leaders were set to join prayers for peace yesterday on the eve of a crucial presidential vote that Russian President Vladimir Putin has pledged to respect.
Putin has in the past given only grudging backing to the election, but on Friday said he was prepared to work with whoever was elected Ukraine's president in today's vote.
"We understand that the people of Ukraine want their country to emerge from this crisis," he said at an economic forum in his hometown of Saint Petersburg. "We will treat their choice with respect... We are today working with those people who control the government and after the election we will of course work with the newly elected authorities."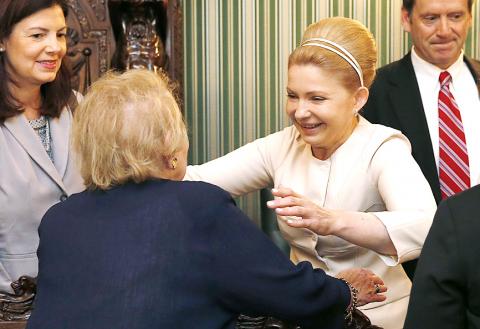 Former Ukrainian prime minister and current presidential candidate Yulia Tymoshenko, right, greets former US Secretary of State Madeleine Albright, center, during their meeting in Kiev yesterday.
Photo: Reuters
Interim Ukrainian President Oleksandr Turchynov called on voters to turn out in force today to prevent Ukraine "being turned into a part of a post-Soviet empire" by a weeks-long insurgency that Kiev and the West say is being orchestrated by Russia.
The authorities are mobilizing tens of thousands of police and volunteers to ensure security on polling day, although pro-Russian separatists are threatening to disrupt the vote in areas under their control in the industrial east. International observers, including a team led by former US secretary of state Madeleine Albright, are expected to fan across most of the nation.
Today's vote is seen as the most crucial since Ukraine's independence in 1991, with the country facing the threat of partition and teetering on the brink of economic collapse.
Billionaire chocolate baron Petro Poroshenko is the favorite, enjoying a near 30-point lead over former prime minister Yulia Tymoshenko, but opinion polls say the vote is likely to go to a runoff in June.
The US responded to Putin's comments with extreme caution, with White House spokesman Jay Carney saying that "we would welcome an indication from Russia that they would accept the results of a free and fair and democratic election in Ukraine."
Ukrainian Foreign Minister Andriy Deshchytsya said Putin's words needed to be followed by "specific actions," adding that Moscow appeared to be taking "into consideration possible introduction of [further economic sanctions] by the EU and the United States."
In the restive east, violence flared early on Friday when suspected militants armed with heavy machine guns and backed by at least one armored vehicle battled a volunteer force attached to the Ukrainian army.
An AFP photographer saw seven bodies near the village of Karlivka northwest of Donetsk. Four of the dead appeared to be rebels, and the others members of a battalion that has backed Ukrainian government troops since the fighting first broke out in early April.
Eighteen soldiers were killed on Thursday in separate attacks in Donetsk and neighboring Lugansk in the heaviest loss for the military since launching its antiterrorist operation in mid-April.
About 150 people have been killed in the east since then, according to a media tally based on UN and Ukrainian government figures.
The election is viewed as crucial to give people a chance to unite behind a legitimate leader after months of unrest that have exposed a deep cultural divide between Ukraine's Russian and Ukrainian speakers.
However, Kiev's interim leaders admit they will have a tough time making sure polling goes smoothly in the eastern provinces, where guerrillas have seized a number of election commissions.
The Ukrainian authorities are planning to deploy more than 55,000 police and 20,000 volunteers on polling day.
The Organization for Security and Cooperation in Europe, which is sponsoring a peace road map for Ukraine that includes so-called "national unity talks," is to have around 1,000 observers on the ground.
"The election will take place under any circumstances and we will get a legitimately elected president," deputy Central Election Commission chief Andriy Magera said.
Comments will be moderated. Keep comments relevant to the article. Remarks containing abusive and obscene language, personal attacks of any kind or promotion will be removed and the user banned. Final decision will be at the discretion of the Taipei Times.