Merkel still vexed at NSA intrusion
'NOT PERFECTLY ALIGNED': US President Barack Obama said Edward Snowden's revelations over US spying on the German chancellor's mobile telephone 'pained' him
US President Barack Obama and German Chancellor Angela Merkel admitted on Friday that differences remained in a damaging row over US spying which has strained their personal and diplomatic relationship.
Merkel on Friday made her first visit to the White House since revelations broke last year about US National Security Agency (NSA) spies eavesdropping on her mobile phone, as well as about wider US surveillance programs.
The claims embarrassed Obama, who sees Merkel as a key European ally, and led Merkel to say amid an uproar in Germany at the time that spying between friends is "just not done."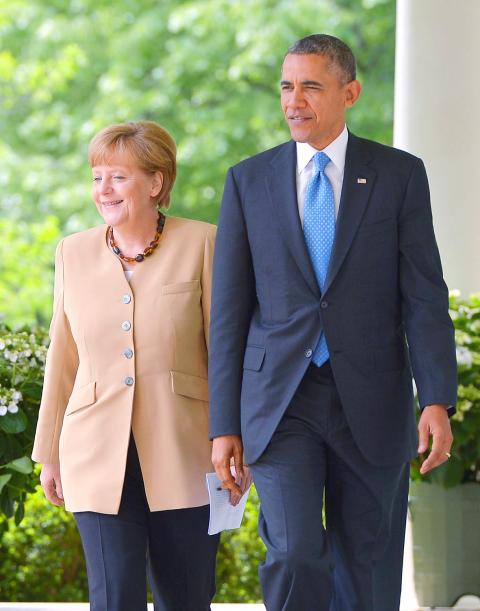 German Chancellor Angela Merkel, left, and US President Barack Obama walk through the Colonnade on their way to a joint press conference in the Rose Garden of the White House on Friday.
Photo: AFP
On Friday, in a news conference in the White House Rose Garden, Merkel and Obama were at pains to play down ill-feeling over the NSA claims made by fugitive US whistle-blower Edward Snowden.
Obama even said the episode had "pained me."
However the pair also made clear that they did not see eye to eye on the affair.
"These are complicated issues, and you know, we're not perfectly aligned yet, but we share the same values, and we share the same concerns," Obama said.
"I think the whole debate ... has shown that the situation is such that we have a few difficulties yet to overcome," Merkel said in apparent agreement.
Obama, who has previously said Washington is no longer spying on Merkel's cellphone, said that his government had shared with Germany details of its bulk surveillance of telephone numbers and duration of calls, which the NSA uses to trace terrorism networks.
However, he insisted that Americans were not listening in on the telephone calls of Germans.
"Angela Merkel is one of my closest friends on the world stage and somebody whose partnership I deeply value... So it has pained me to see the degree to which the Snowden disclosures have created strains in the relationship," Obama said.
Obama said that the privacy interests of non US citizens must be taken into account in framing new rules for NSA activities.
However the president disputed reports that the US intelligence community had offered Germany a no-spy agreement that had then been rejected by the White House, which does not want to set a precedent for other allies.
Obama said that Washington did not have blanket no-spy agreements with any nation, though had some specific arrangements with foreign intelligence agencies which were under review.
"I think that we have gone a long way in closing some of the gaps, but as Chancellor Merkel said: There are still some gaps that need to be worked through," he said.
Comments will be moderated. Keep comments relevant to the article. Remarks containing abusive and obscene language, personal attacks of any kind or promotion will be removed and the user banned. Final decision will be at the discretion of the Taipei Times.