Tunisia embroiled in debate regarding Israeli tourists
Tunisians are embroiled in a heated debate over allowing Israeli tourists into the country, which does not recognize the Jewish state, before an annual pilgrimage that attracts Jews from around the world.
It is an open secret that Israelis have been visiting Tunisia for years on the quiet.
The dispute is not over Jews from third countries, who are openly welcome, just Israelis. People ask whether allowing them in is tantamount to recognition.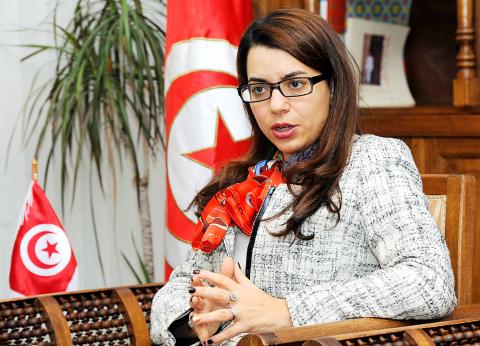 Tunisian Minister of Tourism Amel Karboul speaks in Tunis on March 14.
Photo: AFP
Annoyance in some quarters is such that members of Tunisia's National Constituent Assembly have called for the tourism minister and an interior ministry official to be sacked.
Tunisia, like most other countries in the Arab world, does not recognize Israel, primarily out of solidarity with Palestinian demands for a state of their own.
However, Tunisia is one of the Arab world's most liberal countries, and about 1,500 Jews live there.
More than half are on the island of Djerba, where Africa's oldest synagogue — the focus of the annual pilgrimage — is located.
The debate comes just weeks after Israeli tourists aboard a US cruise ship were denied entry.
In response, Miami-based Norwegian Cruise Line announced that its ships would not return to Tunisia in a potentially severe blow to a struggling economy three years after the ouster of former Tunisian president Zine El Abidine Ben Ali.
At the time, Minister of Tourism Amel Karboul said that "as in all the countries in the world, for certain nationalities, there are obligatory visas or passes."
She said that Israelis are usually required to apply for a pass to enter Tunisia because of the absence of diplomatic ties.
"The procedures were not followed in the necessary time frame," she said.
After her appointment this year, Karboul was criticized for visiting Israel en route to the Palestinian territories.
Now she has been accused of "receiving" a group of Israeli tourists in Tunisia recently.
Deputy Interior Minister for Security Ridha Sfar has been accused of facilitating their entry.
Tunisian Prime Minister Mehdi Jomaa has tried to brush the matter aside, saying it is important that the new tourism season is successful.
"Normalization yes? Normalization no? Let's put these great affairs aside," he said. "Tourism professionals have advised that, for the tourist season to be a success, the Ghriba gathering must be a success."
However, petitions to sack Karboul and Sfar have been filed in parliament with a debate expected by Friday.
The timing is sensitive because the pilgrimage starts on May 16. Issam Chebbi of the centrist Al-Joumhouri party is one of the signatories of a motion to censure the officials.
"Tunisia has its principles," Chebbi said. "We do not want relations with a racist state."
Another Joumhouri deputy, Iyed Dahmani, said the "sovereignty of Tunisia, its Arab affiliation and its solidarity with the Palestinians are above all other considerations."
Leftist MP Faycel Jadlaoui said: "Jews who come to Tunisia for the Ghriba are welcome, and we'll even go on pilgrimage with them if they like."
"Our problem is those with Israeli passports; their entry into Tunisia would be equivalent to normalizing ties" with a country that provokes bitter memories, he added.
Tunisia hosted the Palestine Liberation Organization after its expulsion from Lebanon in 1982 until it returned to the Israeli-occupied territories in the 1990s.
Jadlaoui recalled a deadly 1985 Israeli air strike on the PLO headquarters in Hammam al-Shatt.
Several dozen Palestinians died, and Tunisians were also among the dead and wounded.
A decade later, Tunisia and Israel opened mutual interest sections, but Tunis froze relations in 2000 in protest at Israel's response to the second Palestinian intifada, or uprising.
Independent legislator Tahar Hmila has urged his colleagues to reflect on differences between the government and the people.
"We do not recognize Israel, but are people living in Israel Zionist criminals or human beings? The state is criminal, but are the people?" Hmila said.
Comments will be moderated. Keep comments relevant to the article. Remarks containing abusive and obscene language, personal attacks of any kind or promotion will be removed and the user banned. Final decision will be at the discretion of the Taipei Times.