Ferry captain says company ignored his stability warnings
A probe into South Korea's ferry disaster has heard that warnings over the ship's seaworthiness were ignored, prosecutors said yesterday, as rescuers worked to recover the bodies of more than 90 people still missing.
The confirmed death toll from the accident two weeks ago stood at 212, with 92 unaccounted for, the coast guard said, as divers pushed deeper into the submerged vessel's interior in their search for bodies.
The recovery operation has stalled in recent days because of strong currents and debris blocking access to some of the cabin decks.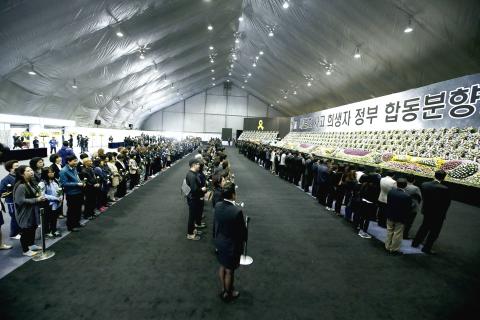 Mourners wait in lines yesterday to pay tribute to victims of the Sewol ferry disaster at the official memorial altar at Ansan Hwarang Park in Ansan, South Korea.
Photo: EPA
Prosecutors investigating the disaster on Tuesday questioned the regular captain of the 6,825-tonne Sewol, who was on leave when it capsized on April 16 with 476 people on board.
Senior prosecutor Yang Jong-jin said the captain, identified only as Shin, told investigators he had warned the shipping company of serious stability problems with the Sewol.
Chonghaejin Marine Co purchased the then-18 year old ferry from Japan in 2012 and refurbished it, building extra passenger cabins on the third, fourth and fifth decks. Shin said the renovations altered the balance of the ship and undermined its anti-rolling ability.
When he advised the company about the problems, his warnings were brushed aside, he told investigators.
In Shin's absence, the Sewol was skippered by captain Lee Joon-seok, who is now under arrest along with 14 crew members.
Meanwhile, further evidence of an inadequate first response was provided by a written Ministry of National Defense statement sent to an opposition lawmaker in reply to a question.
The ministry said elite navy divers were prevented from trying to access the ship in the immediate aftermath of the capsize, because the coast guard — which had operational control of the rescue mission — wanted divers working for a private company called Undine Marine Industry to go first.
"The military complied with the coast guard's demand in order to prevent mutual obstruction," the statement said.
Comments will be moderated. Keep comments relevant to the article. Remarks containing abusive and obscene language, personal attacks of any kind or promotion will be removed and the user banned. Final decision will be at the discretion of the Taipei Times.