'Highly unlikely' MH370 debris will be found: PM
Chances of finding floating debris from a missing jetliner are highly unlikely and a new phase of the search will focus on a far larger area, Australian Prime Minister Tony Abbott said yesterday.
The search effort for Malaysia Airlines flight MH370, which vanished on March 8 with 239 people on board, has so far failed to turn up any trace of wreckage.
Abbott said efforts would shift away from visual searches conducted by planes and ships and toward underwater equipment capable of scouring the Indian ocean floor.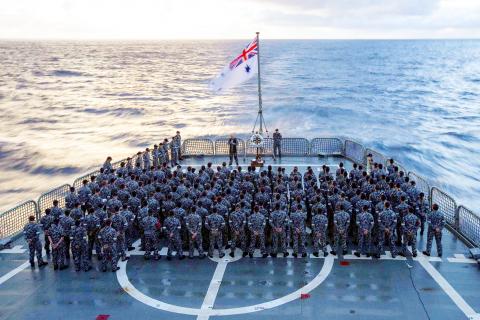 The crew of the Royal Australian Navy ship HMAS Success attend an Anzac Day dawn service on Friday last week as the ship is deployed in the southern Indian Ocean as part of the continuing search for Malaysian Airlines flight MH370. The photograph was released on Saturday.
Photo: Reuters
He said it was possible nothing would ever be found.
"We will do everything we humanly can, everything we reasonably can, to solve this mystery," he said.
Malaysia, China, Japan, New Zealand, South Korea, Britain and the US are assisting Australia.
It remains unclear what caused the Boeing 777 to veer off course and disappear from radar.
Malaysian authorities have still not ruled out mechanical problems, but say that the evidence suggests it was deliberately diverted from its route.
Malaysia is under pressure to determine what happened.
The empty expanse of water northwest of Perth is one of the most remote places in the world and one of the deepest.
Authorities had been focusing on a 10km2 stretch of seabed about 3,200km from Perth, after detecting what they suspected was a signal from the plane's black box recorder on April 4.
The US Navy's Bluefin-21 underwater drone searching the seabed has failed to turn up any sign.
"We are still baffled and disappointed that we haven't been able to find undersea wreckage based on those detections," Abbott told reporters.
Abbott said that the new search area, which spans 700km by 80km could take between six and eight months to examine.
The operations have been handled primarily as a military operation, but Abbott said that one or more commercial companies would be hired by Australia and Malaysia to handle the next phase.
"We haven't found anything anywhere that has any connection to MH370," said Angus Houston, head of the Australian agency coordinating the search effort.
Comments will be moderated. Keep comments relevant to the article. Remarks containing abusive and obscene language, personal attacks of any kind or promotion will be removed and the user banned. Final decision will be at the discretion of the Taipei Times.