Stag trophies go from hokey to hipster in Germany
Not long ago, self-respecting young German urbanites would have turned on their heels if they spotted a mounted deer head or a set of antlers in a bar.
In the sometimes subtle language of taste and demographics, taxidermy in Germany screamed old fashioned, tacky and even a bit right-wing.
Whereas in Britain, for example, mounted animals might conjure up stately homes and quaint rural pubs, Germans would be more likely to have faint echoes of the Bavarian backwoods and a parade of Nazi and communist strongmen earning their macho bona fides with hunting exploits.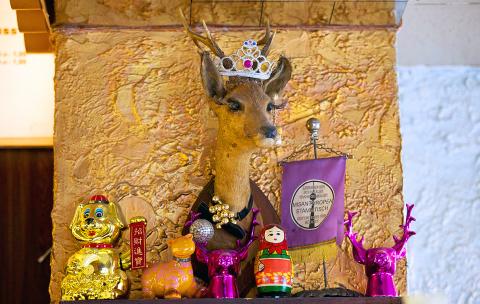 A deer head trophy hangs on the wall of the restaurant Raststaette Gnadenbrot in Berlin on March 28.
Photo: AFP
However, in the tradition of hipsters the world over, stag heads have been flipped into an ironic statement by those self-styled urbane, creative and politically progressive types in the "uber-cool" neighborhoods of Berlin, Hamburg and Munich.
And, in the next iteration of the trend, upscale home furnishing designers are even selling blinged-out deer heads with rhinestones and gold-plating.
The staid broadsheet Frankfurter Allgemeine Sonntagszeitung devoted a lengthy piece this year to the deer trophy, saying it had long escaped "grandpa's hunting hall."
"It was a dust-gatherer, part of a dead animal which, should you have ended up inheriting one, you didn't know what to do with. Would the rubbish collectors pick one up?" journalist Jennifer Wiebking wrote.
She said that taxidermy first started popping up in modish bars and restaurants before conquering the private flats of the style-conscious, where they are of course hung only with a wink and a nod.
"A rack of antlers is a wonderful style accessory to show that you have a sense of irony," she wrote.
German news agency DPA recently ran a piece headlined Pimp My Antler Rack profiling designers who decorate the mounted heads of roe, bucks, elk and cattle and sell them for a premium to hang in homes, restaurants and even offices.
Klaus Siebenhaar, a professor of cultural and media studies at Berlin's Free University, said that if many abroad think of "sauerkraut and sausage" when they think of Germany, Germans themselves link the stag trophy with their own national identity.
"It is the symbol of the German forest, of provincialism, of nature and at the same time of the petite bourgeoisie," he said.
In Berlin's main hipster habitat, the Neukoelln District, animal trophies have become nearly as ubiquitous as full beards and skinny jeans.
Ines Djampour owns Rudimarie, a cafe that attracts students and fashionable young parents alongside a few older longtime residents of the neighborhood.
Carefully curated mismatched vintage garden furniture, antique lamps and wall hangings make up the decor, and a deer trophy has pride of place opposite the front door.
A short walk away, Kathrin Land said her restaurant and bar Major in the ultra-hip Reuterkiez area of the capital wanted a gentleman's-lounge look for their smoking room, which has two sets of antlers mounted on Baroque-patterned wallpaper.
"Of course it used to be fusty thing, you'd think of Bavaria, that kind of Disneyland Germany, and so you wouldn't go in, at least not in Berlin," she said.
"When I think of my mum and the '60s generation then she would have said, 'Oh God, this is the generation we rebelled against, this classic stuffy 1950s atmosphere.' I think for young people it's a kind of retro trash kitsch — they think it's cool and kind of funny," she said.
Comments will be moderated. Keep comments relevant to the article. Remarks containing abusive and obscene language, personal attacks of any kind or promotion will be removed and the user banned. Final decision will be at the discretion of the Taipei Times.