Two backpacks detonated before Boston Marathon
Police detonated two backpacks near the finish line of the Boston Marathon on Tuesday night and arrested a suspect on the anniversary of last year's deadly bombings, media reported.
Hundreds of people were evacuated after the backpacks were found at the scene of the twin bombings that killed three people exactly a year ago.
The Boston Police Department wrote on its official Twitter account that a male suspect had been taken into custody in connection with the unattended backpacks.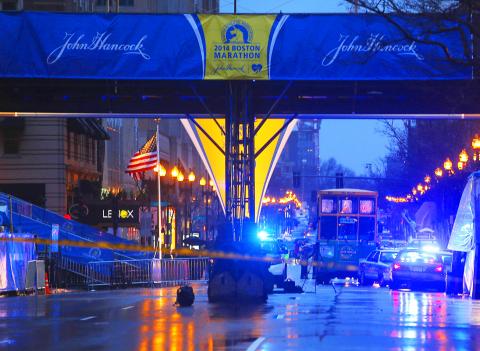 A bag sits on the road near the finish line of the Boston Marathon in Boston, Massachusetts, on Tuesday. It was later detonated by the bomb squad after inspection, local media reported.
Photo: Reuters
Later, the backpacks were detonated as a precautionary measure, Boston police Superintendent Randall Halstead said during a briefing.
The suspect, identified as Kevin Edson, 25,was walking barefoot down the middle of Boylston Street just before 7pm, the Boston Globe reported.
Halstead said the man was dressed in black, carrying a knapsack and acting strangely, but he did not give details of his behavior.
Edson told an officer that he had a rice cooker in the bag, at which time he was arrested and the bomb squad was called in, Halstead said.
He said the bag was "rendered safe" by the bomb squad, and another bag near the scene was also detonated in the same way.
The Globe said Halstead did not say what, if anything, police found in either bag, except to say there were "pieces" in the suspect's bag that may verify what he said about the rice cooker.
Halstead said police were investigating who owned the second bag.
This year's marathon takes place on Monday.
Edson was scheduled to be arraigned in court yesterday on charges of threatening battery, possession of a hoax device, threat to commit a crime, disturbing the peace, disturbing a public assembly, and disorderly conduct, police said, according to the Globe.
A witness said that the suspect insisted that he was a university student at the Massachusetts College of Art and Design.
Boston earlier paid solemn tribute to the victims and survivors of the marathon bombings on April 15 last year, observing a moment of silence and raising the US flag exactly one year after the attacks.
Comments will be moderated. Keep comments relevant to the article. Remarks containing abusive and obscene language, personal attacks of any kind or promotion will be removed and the user banned. Final decision will be at the discretion of the Taipei Times.