Hotline to be set up for fast-food workers in US
A hotline for fast-food workers to anonymously report allegations of illegal or unjust pay practices by their bosses is to be set up in New York, as part of an expanding national campaign by US workers.
Tish James, the New York City public advocate, said on Tuesday that her office would be establishing the whistleblower phone line while pushing for legislation to give US authorities greater powers to investigate what she and union campaigners call "wage theft."
"It's hard enough for low-wage workers to survive in this economy," James said in a statement before a planned demonstration outside a McDonald's in Manhattan. "The instances of wage theft in New York City and around the country are becoming too many to ignore."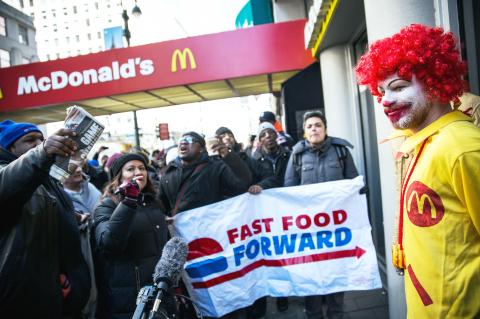 A man named Ben, who chose not to give his last name, dressed as the McDonald's mascot Ronald McDonald, participates in a protest for higher wages for fast-food workers in New York on Tuesday. During the protest Ronald McDonald was "arrested" by other protesters for corporate greed and withholding wages.
Photo: AFP
James said she would also urge authorities to report to the public on the number of complaints lodged against employers.
Last week, lawyers unveiled a coordinated series of lawsuits from workers who alleged that the fast-food giant and some of its franchise-owners were systematically stealing the wages of tens of thousands of employees.
Seven lawsuits, some requesting class-action status, were filed in California, Michigan and New York. They alleged that thousands of workers had their pay pushed below the federal minimum wage of US$7.25 an hour through a variety of practices.
Some workers were simply not paid for all the time they worked, the complaints alleged, while some had wages docked to pay for their uniforms and some were made to wait, unpaid, for several hours until being allowed to clock in when restaurants became busier.
James' announcement was made soon after New York Attorney General Eric Schneiderman announced that his office had settled a criminal action in the state over alleged wage theft by a McDonald's franchise owner.
Richard Cisneros, the owner of seven McDonald's outlets in Manhattan, will pay almost US$500,000 to more than 1,600 current and former employees to settle the case, said Schneiderman, whose Web site features a form for fast-food workers to lodge complaints with their bosses.
The action alleged that low-paid workers had their wages docked to make up cash register shortfalls, and that they were made to work unpaid before and after their shifts. It also alleged that they did not receive an extra hour of pay when they worked for ten hours consecutively, as is required under New York law, and were not given allowances for cleaning their uniforms.
"Like every other business in New York State, fast-food employers must follow our labor laws," Schneiderman said in a statement. "Our lowest wage workers deserve the same protections of the law as everyone else."
Comments will be moderated. Keep comments relevant to the article. Remarks containing abusive and obscene language, personal attacks of any kind or promotion will be removed and the user banned. Final decision will be at the discretion of the Taipei Times.