Venezuelans gear up for new food scarcity protest
FEEDING DISCONTENT: In addition to the persistent lack of food, protesters are also angry about what they see as the state's failure to curb violence and inflation
Venezuelan activists were again to march yesterday against the country's chronic food shortage, one of the major grievances in a wave of protests shadowing Venezuelan President Nicolas Maduro's government.
At least 20 people have now died in Venezuela since protests first erupted a month ago, giving Maduro his biggest test since succeeding late Venezuelan president Hugo Chavez almost a year ago.
The new rally was called by the country's most prominent opposition leader, two-time presidential election runner-up Miranda State Governor Henrique Capriles, who lost to Maduro by a whisker in last year's April election.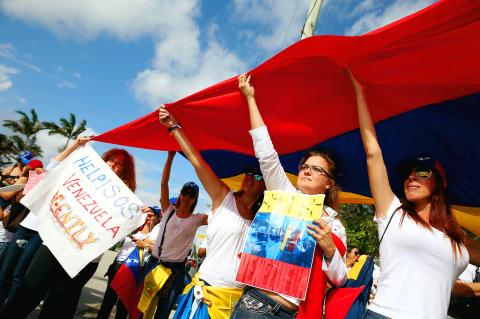 Demonstrators call for support for the anti-government protests taking place in Venezuela as they wait for US President Barack Obama to arrive at Miami-Dades Coral Reef Senior High on Friday in Miami, Florida.
Photo: AFP
Hours before the march, Capriles charged on Twitter that Maduro wanted to "put obstacles" against the demonstration.
"Our people have the right to protest and we will do it in peace," he said.
Some of the demonstrations have drawn tens of thousands of people and Capriles' participation could attract a large crowd.
The rally, which coincides with International Women's Day, will include a march by stay-at-home moms who will bang empty pots — a traditional form of protest across Latin America.
Venezuela's protest movement has been marked by regular clashes between security forces and radical protesters. Dozens of claims of police abuse have been made, while Capriles has accused Maduro of promoting a "confrontation of people against people" after the socialist leader called on his followers to "enforce order."
"Little candle that is lit, little candle that we put out with our people," Maduro said this week.
The violence claimed two more lives on Thursday when a man who tried to dismantle an opposition barricade in Caracas and a riot police officer were shot dead.
The protests began early last month as a student movement, but it has since been joined by opposition figures, all fed up with Venezuela's runaway murder rate, chronic food shortages and high inflation of 56 percent.
Yet the opposition has been divided about which tactics to employ. The former mayor of Caracas' upscale Chacao District, Leopoldo Lopez, spearheaded a strategy called "the exit" to push for Maduro's resignation.
Lopez gave himself up to police in dramatic fashion on Feb. 18 in front of thousands of supporters after the authorities accused him of inciting violence.
Capriles has distanced himself from "the exit" movement, warning that "the conditions are not there to pressure for the government's exit."
The Miranda governor, who officially lost to Maduro by 1.5 percentage points last year, has said that to succeed, the protests need the support of the poorer neighborhoods that formed Chavez's base of power and now comprise Maduro's.
Analysts say that while Maduro is facing the biggest challenge of his young presidency, his government is sturdy enough to withstand the pressure.
Comments will be moderated. Keep comments relevant to the article. Remarks containing abusive and obscene language, personal attacks of any kind or promotion will be removed and the user banned. Final decision will be at the discretion of the Taipei Times.