Typhoon Fitow slams into China, at least three killed
ULTIMATE SACRIFICE: Xinhua said one of the casualties of Fitow, which packed winds stronger than 200kph, was blown off a hill as he went to help a stranded fisherman
Typhoon Fitow barreled into China's east coast early yesterday, packing winds of more than 200kph, then slowed before weakening to a tropical storm, state media reported.
At least three people were reported killed, all near Wenzhou in Zhejiang Province, Xinhua news agency said.
Two port workers in Wenzhou were missing and may have fallen into the sea, the agency added.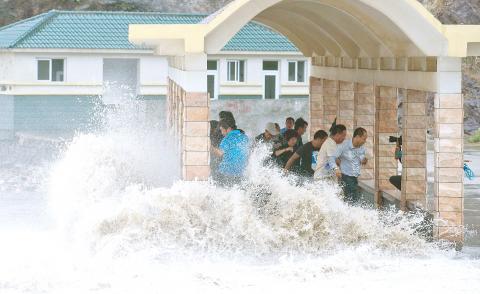 People try to dodge the waves as a storm surge brought by Typhoon Fitow smashes into the coastline of Wenling, in China's Zhejiang Province, on Sunday.
Photo: Reuters
Parts of Zhejiang saw nearly 29cm of rain over 17 hours from Sunday to early yesterday, while areas in Fujian Province saw up to 16cm, the China News Service said.
In the hard-hit Cangnan County in Wenzhou, more than 1,200 homes collapsed and damages amounted to hundreds of millions of yuan, China National Radio (CNR) said.
One of the victims, 55-year-old Ni Wenlin, died "after strong wind blew him off a hill" late on Sunday as he was heading out to help rescue a stranded fisherman, Xinhua said, citing municipal flood control authorities.
In Fujian the typhoon broke electricity poles in half, leaving power lines on the ground, and bent iron roadsigns out of shape, CNR reported.
In the coastal city of Ningde, a village leader told the Beijing Times that huge waves had damaged a 200-hectare seaweed farm, which nearly 100 families depended on for their livelihoods.
The typhoon "broke the bamboo poles holding the seaweed in place," village head Lin Fangqin said.
The storm is expected to move northwest, Xinhua said yesterday, citing the Chinese National Meteorological Center.
Authorities evacuated hundreds of thousands of people and issued China's highest alert on Sunday as Fitow approached.
The center issued a red alert for the storm, which was packing winds of up to 151kph late on Sunday night as it moved toward the coast.
Winds rose to 201kph in parts of Wenzhou, Xinhua reported later, citing local flood control authorities.
Zhejiang has so far evacuated more than 574,000 people and the storm has displaced 177,000 in Fujian, while also forcing the suspension of bullet-train services in several cities in Zhejiang, Fujian and Jiangxi provinces, Xinhua said.
Fitow, which Xinhua described as the 23rd storm to hit China this year, earlier passed through Japan's Ryukyu Islands chain, forcing flight cancelations and causing power outages.
Before striking China, Fitow skirted the northern coast of Taiwan, causing many flight disruptions and dumping large quantities of rain, but resulting in only minimal damage and no casualties.
Japan was bracing for another storm yesterday, Typhoon Danas, which is on course to hit the archipelago.
Packing winds of up to 180kph near its center, Danas was churning northwest toward the Ryukyus yesterday morning.
More than 50 flights at Naha airport were canceled while schools on Okinawa were shut, according to local media.
A total of 103 international flights were canceled in Taiwan, while 14 flights were delayed. Seventeen ferry services between Taiwan and offshore islands were also halted.
Danas was expected to reach a point off the western coast of Kyushu Island by early today.
Comments will be moderated. Keep comments relevant to the article. Remarks containing abusive and obscene language, personal attacks of any kind or promotion will be removed and the user banned. Final decision will be at the discretion of the Taipei Times.