Syria submits more chemical arms details
'IN EVERYBODY'S INTEREST': Confidence about the plan and encouraging progress are paving the way for the start of disabling Syria's chemical weapons equipment
Syria has given international experts additional details about its chemical weapons program that go beyond a Sept. 21 declaration of its poison gas arsenal, the UN said on Friday.
The team consists of experts from the Organisation for the Prohibition of Chemical Weapons (OPCW) in The Hague, Netherlands, with help from UN personnel. The UN Security Council on Sept. 27 demanded the elimination of Syria's chemical arsenal.
UN spokesman Martin Nesirky said that OPCW director-general Ahmet Uzumcu had informed the agency's executive council that Syria has presented it with new details.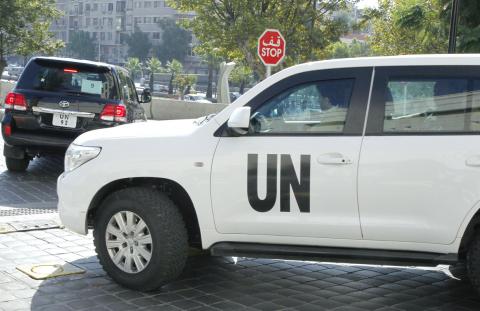 UN vehicles transport a team of experts from the Organisation for the Prohibition of Chemical Weapons as they leave their hotel in Damascus, Syria, yesterday.
Photo: Reuters
"The additional submission is being reviewed by the Organisation for the Prohibition of Chemical Weapons," Nesirky said.
He said Uzumcu was expected to give OPCW member countries an update on Tuesday.
He gave no details about the new information.
Western diplomats in New York have said their countries' intelligence agencies are analyzing the declaration on Syria's chemical weapons program that Syrian President Bashar al-Assad's government submitted to the OPCW on Sept. 21.
The contents of Damascus' declaration have not been made public.
According to declassified French intelligence, Syria's chemical arsenal includes more than 1,000 tonnes of chemical agents and precursor chemicals for the production of mustard gas and the nerve agents sarin and VX.
Al-Assad's government, threatened with US airstrikes in retaliation for an Aug. 21 sarin gas attack near Damascus that the US says killed more than 1,400 people, agreed last month to accede to the Chemical Weapons Convention and abandon its chemical arsenal.
On Thursday, the UN said the chemical experts have made "encouraging initial progress" and hoped to begin disabling equipment involved in Syria's chemical weapon process this week.
The rebels and Syrian government blame each other for the Aug. 21 attack on a Damascus suburb.
The US and other Western countries say a report by UN investigators indirectly implicates government-allied forces.
There was some optimism in Washington on the Syria situation. On Thursday, US administration officials held a three-hour briefing for the US Senate Armed Services Committee.
US Senator Carl Levin, the panel's chairman, said the officials who briefed the committee expressed confidence the chemical weapons plan would work, partly because Russia was pushing al-Assad to cooperate.
"There is confidence that the chemical piece will work, because it's in everybody's interest to do it, including Russia's putting pressure on Assad," he told reporters.
The UN has been notified of at least 14 chemical attacks since the two-and-a-half-year civil war began. It estimates more than 100,000 people have died since the uprising against al-Assad began in March 2011.
Russia, a staunch ally and arms supplier of al-Assad, also blames the rebels for the Aug. 21 gas attack.
The chemical weapons demolition plan and Security Council Sept. 27 resolution that made it legally binding were based on a deal reached last month in Geneva by Russian Minister of Foreign Affairs Sergei Lavrov and US Secretary of State John Kerry.
Comments will be moderated. Keep comments relevant to the article. Remarks containing abusive and obscene language, personal attacks of any kind or promotion will be removed and the user banned. Final decision will be at the discretion of the Taipei Times.