Venezuela expels US diplomats for 'planning sabotage'
Venezuelan President Nicolas Maduro on Monday announced the expulsion of the top US diplomat in Venezuela and two other embassy employees for allegedly conspiring with "the extreme right" to sabotage the economy and power grid.
Maduro made the announcement on live TV and said they had 48 hours to leave the country.
"Out of Venezuela," the leftist leader shouted, then added in English: "Yankees go home."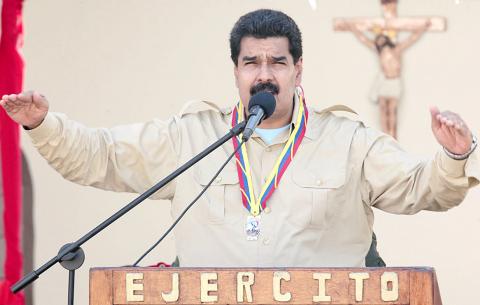 Venezuelan President Nicolas Maduro speaks at an event in Coro, Venezuela, on Monday in a handout photograph provided by Miraflores Palace.
Photo: Reuters
Maduro said that a group of US embassy officials that his government had been following for months was "dedicated to meeting with the Venezuelan extreme right, to financing it and feeding its actions to sabotage the electrical system and the Venezuela economy."
"I have proof here in my hands," he said, although he did not offer any details on the diplomats' alleged transgressions other than to say they met with opposition and labor leaders in the Bolivar State, which is home to a number of troubled state-owned foundries and Venezuela's main hydroelectric plant.
The expulsion of US Charge D'Affaires Kelly Keiderling, who is the top US embassy official in the absence of an ambassador, and the other two diplomats comes as Venezuela's economy looks increasingly troubled during the approach to Dec. 8 municipal elections. Annual inflation is at more than 45 percent and the government is running short of foreign currency.
Maduro blames sabotage by the "extreme right" for the blackouts and food shortages plaguing the nation, but has provided no evidence. Like former Venezuelan president Hugo Chavez, he has a history of making unsubstantiated accusations against the US and his political opponents.
The US embassy had not yet been officially informed of the expulsions when Maduro announced them, US acting deputy chief of mission Gregory Adams said.
Venezuela and the US have been without ambassadors since 2010, when Chavez refused to accept a newly named US ambassador.
Comments will be moderated. Keep comments relevant to the article. Remarks containing abusive and obscene language, personal attacks of any kind or promotion will be removed and the user banned. Final decision will be at the discretion of the Taipei Times.