Greece arrests neo-Nazi party leader
DUSK FOR DAWN? The killing of an anti-fascist musician, allegedly by a neo-Nazi, sparked protests and led the government to launch a crackdown on Golden Dawn
Greek police yesterday arrested the leader of the Golden Dawn neo-Nazi party and hunted for dozens of its members as part of a crackdown launched after the murder of a leftist musician.
Golden Dawn leader Nikolaos Michaloliakos was arrested early yesterday, along with party spokesman and Greek Member of Parliament (MP) Ilias Kassidiairis, and two other group members, on charges of belonging to a "criminal organization," a police source said on condition of anonymity.
Arrest warrants were also issued for at least five other Golden Dawn MPs and dozens of members, the source said.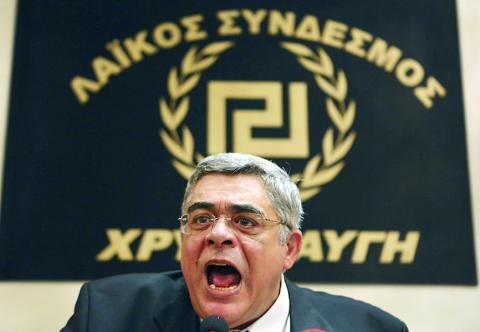 Golden Dawn leader Nikolaos Michaloliakos addresses a news conference in Athens on May 6 last year.
Photo: Reuters
The arrests came a day after Golden Dawn threatened to pull its 18 lawmakers out of parliament in the recession-hit country, where the government is struggling to implement painful public sector reforms in return for international bailout funds.
Golden Dawn, which had MPs elected to parliament for the first time last year on the back of widespread anger over austerity measures, is facing a crackdown after the fatal stabbing of a popular hip-hop musician on Sept. 18.
The death of anti-fascist Pavlos Fyssas, 34, allegedly by a self-confessed neo-Nazi, sparked nationwide protests and led the government to launch a crackdown on the group whose members are suspected of attacking immigrants and political rivals.
"This government is determined not to allow the descendants of the Nazis to poison our social life, to commit crimes, terrorize and undermine the foundations of the country that gave birth to democracy," Greek Prime Minister Antonis Samaras said in a televised address a day after the killing.
Faced with the crackdown, which included wiretaps of party members, Michaloliakos on Friday threatened to pull the group's deputies out of parliament, a move that would trigger by-elections in 15 regions around the country.
"We will exhaust any means within our legal constitutional rights to defend our political honor," Michaloliakos told reporters late on Thursday.
"Everything is open. If the country enters a cycle of instability, it is those who demonize Golden Dawn who will be responsible, not [us]," he said.
By-elections could hurt Samaras' coalition government, which has a slim majority of 155 MPs in the 300-seat parliament, and cast into doubt Greece's ability to fulfill its obligations to creditors on multibillion-euro bailouts.
Samaras' conservative party is neck-and-neck in the polls with the radical leftist Syriza party that opposes Greece's EU-IMF austerity bailout, and a strong showing by Syriza in by-elections could lead to the government's fall.
Golden Dawn saw its popularity increase as Greece became further mired in recession and unemployment figures hit record highs.
The party has sent black-clad squads to smash up market stalls owned by immigrants, held torch-lit rallies lambasting political opponents as "traitors" and "thieves" and organized donations of food exclusively for ethnic Greeks.
It has also been blamed for a series of brutal attacks on migrants and political opponents, although the neo-Nazi group strenuously denies any responsibility and says it is the victim of slander.
This year, the party has consistently polled at more than 10 percent, with its approval ratings even higher in the 18-44 age group, making them the country's third-strongest political force.
However, the hip-hop artist's murder has hurt Golden Dawn's reputation among voters, with the party polling at about 7 percent last week.
Analysts warn that the party's popularity will make any efforts to outlaw it difficult and politically dangerous.
"The constitution makes no provision for the dissolution of a parliamentary group, even if there is proof that it is a criminal organization," Panteion University associate professor of law Dimitris Christopoulos told reporters this week.
Comments will be moderated. Keep comments relevant to the article. Remarks containing abusive and obscene language, personal attacks of any kind or promotion will be removed and the user banned. Final decision will be at the discretion of the Taipei Times.