Tunisian government hampering talks: union
POLITICAL PARALYSIS: The main labor union statement on Saturday called into question the government's task of writing a constitution and paving the way for elections
The Tunisian political crisis prompted by the assassination of a leading opposition figure deepened on Saturday after the main labor union said talks with the Islamist-led government had failed, casting doubt on the country's ability to emerge from more than two years of turmoil.
Houcine Abassi, leader of the Tunisian General Labor Union, known by its French acronym UGTT, which represents 500,000 workers, said the government was stalling in response to demands that it resign and make way for an interim, non-partisan replacement.
The union, opposition, lawyers and human rights advocates say the government's inability to ensure security led to the killings of two opposition figures in February and July.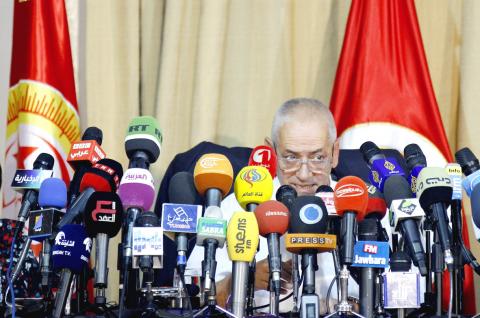 Tunisian General Labor Union Secretary-General Houcine Abassi speaks during a news conference in Tunis on Saturday.
Photo: Reuters
The ruling Ennahda Party said it was "astonished" at Saturday's statement.
The death of Mohammed Brahmi, who was gunned down in front of his family on July 25, plunged Tunisia into its current crisis, as dozens of opposition lawmakers quit, freezing efforts to write a new constitution.
A series of street protests and political paralysis have crippled the country.
Tunisia's protesters, inspired by the self-immolation of a fruit seller, overthrew their decades-old authoritarian government in January 2011.
Those protests spread through the Arab world, including to Egypt, Syria and neighboring Libya.
Tunisia has so far fared better than those countries, setting an example for political cooperation when a coalition was formed between the Islamist Ennahda Party and two secular parties.
However, the troubled coalition government has failed to restore the economy or control religious extremists, which it blames for the two assassinations of opposition figures killed by the same gun.
The killers remain at large.
The government's immediate task — writing a constitution and paving the way for new elections — was newly called into question by Saturday's announcement.
In a statement late on Saturday, Ennahda said Tunisia was in dire need of a political truce.
Those "who have pushed the situation to its current degraded state" must take responsibility, the statement said.
Abassi said the door was open to renewed negotiations, but the prospect seemed unlikely given his accusations of government "doublespeak and manipulation."
The opposition has accused Ennahda of being overly tolerant of a rising radical Islamist trend that has shown violent tendencies in its efforts to instill greater piety.
Before the 2011 fall of Tunisia's longtime dictator Zine El Abidine Ben Ali, the country had been known as one of the most secular countries in the Arab world.
Comments will be moderated. Keep comments relevant to the article. Remarks containing abusive and obscene language, personal attacks of any kind or promotion will be removed and the user banned. Final decision will be at the discretion of the Taipei Times.