Israel frees prisoners ahead of talks
MIXED FEELINGS: Palestinians celebrated the return of the prisoners as Israel announced thousands more settlements, endangering the peace talks before they had even begun
Israel freed 26 Palestinian prisoners early yesterday, but pledged to build thousands of new settler homes, just hours before a new round of peace talks that followed a three-year hiatus.
As Palestinians celebrated the release of a first batch of 104 prisoners, most of whom had been serving life for killing Israelis, Israeli Minister of Housing Uri Ariel vowed to build thousands more settler homes in the occupied West Bank.
"We will build thousands of homes in the coming year in Judaea and Samaria," he told public radio, using the biblical term for the West Bank. "No one dictates where we can build."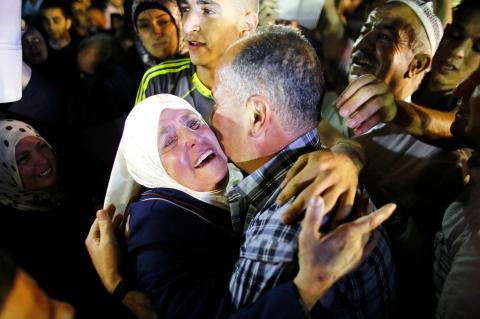 Freed Palestinian prisoner Jamil Nabi Annatsheh, right, is greeted by his mother upon his arrival in the West Bank city of Ramallah yesterday.
Photo: Reuters
His provocative remarks were made as the negotiating teams readied for their first direct talks in the region in nearly three years, following marathon efforts by US Secretary of State John Kerry who managed to draw the two sides back to the table in Washington on July 30.
However, the talks looked set to be overshadowed by a deepening rift over settlements, sparked by Israel's announcement in the past three days that it would move ahead with 2,129 new settler homes, more than three-quarters of them in annexed east Jerusalem.
An initial announcement on Sunday of 1,187 new homes for Jewish settlers was followed a day later by the approval of another 942 settlement homes in east Jerusalem, infuriating the Palestinians, who want the land for a future state.
"This settlement expansion is unprecedented," senior Palestine Liberation Organization official Yasser Abed Rabbo said on Tuesday, warning that it could bring about the "collapse" of the talks.
"It threatens to make talks fail even before they've started," he said.
The last round of direct peace talks broke down just weeks after they were launched in September 2010 in a bitter row over settlements.
In a bid to defuse the growing crisis, Kerry phoned Palestinian President Mahmoud Abbas late on Tuesday, a senior Palestinian source said.
"The call Abbas received tonight from Kerry is part of ongoing US efforts to defuse a crisis before the talks [begin], as a result of the new settlement tenders today and in the last few days," he said, speaking on condition of anonymity. "We are waiting for the United States to take a clear stance on the escalating settlement building, which we consider the biggest obstacle that Israel is creating to stop serious talks from happening."
Abbas' office also confirmed he had received a telephone call from Kerry "to discuss developments in the peace process, on the eve of the resumption of negotiations."
Despite the row, there were celebrations in the Palestinian territories overnight as Israel made good on a pledge to release 26 prisoners, a key component of the deal that brought the Palestinians back to the negotiating table.
Eleven of them received a hero's welcome at the Muqataa presidential compound in the West Bank city of Ramallah where they were met by thousands of cheering, dancing supporters at a ceremony addressed by Abbas.
"This is the first group," Abbas told the crowd at the celebration which began well after midnight.
"We shall continue until we free all the prisoners from Israeli jails," he said.
Comments will be moderated. Keep comments relevant to the article. Remarks containing abusive and obscene language, personal attacks of any kind or promotion will be removed and the user banned. Final decision will be at the discretion of the Taipei Times.