FEATURE: Children are 'left behind' in China's rush to cities
Six-year-old Keke looks silently from a bare living room at her closest companion: A grandmother who resents having to raise her.
Keke is one of China's 61 million "left-behind" children, whose parents have joined the mass migration to cities where they can earn higher wages — but cannot afford to keep a family.
Instead they have to leave their children's upbringing and safety in the hands of elderly, sometimes inattentive carers, many of them with poor health and meager schooling.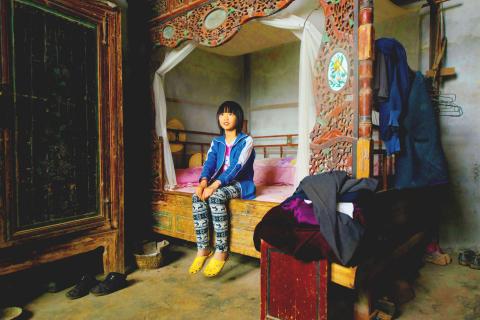 A girl whose family name is Ouyang and whose parents are migrant workers sits on a bed in the home she shares with her grandparents in the village of Zhuangshuzui, Hunan Province, China, on April 30 last year. Nearly four in 10 of China's rural youths — 61 million altogether — are "left-behind children" whose parents have joined a mass migration to cities where they can earn higher wages, but not afford to raise a family.
Photo: AFP
"I don't really want to be raising her," says Keke's 60-year-old guardian, who declined to give her name. "I have a lot of sicknesses and aches and pains, but I still have to raise her. Sometimes when I get sick my whole body hurts and nobody cares."
Keke goes to kindergarten and sometimes plays with neighbors in Zhuangshuzui, a village set among rice paddies and low hills.
She has few toys at home, where a scattering of stools stand near concrete walls, scuffed and covered with scribbles.
"It's really frustrating, but there's no other way," her grandmother says, adding that the child's parents are in Beijing.
Zhuangshuzui, in Hunan Province, is part of a belt across central and southern China where large numbers of children, sometimes more than 50 percent of them, are "left behind," defined as living apart from one or both parents.
Their plight was highlighted last year when five boys in Guizhou Province — four of them living with a frail grandmother — died of carbon monoxide poisoning after burning charcoal to try to keep warm in winter.
In the widespread attention that followed, some criticized the lack of supervision, but many offered sympathy.
Parents working far from home typically send money, but can only afford to visit once a year.
"The children's abnormal deaths reveal serious shortcomings in the world's second-largest economy," Xinhua news agency said at the time.
For more than 20 years China's government has encouraged the rural poor to move to cities as a way to boost growth and lift living standards. The country now has 263 million migrant workers and new leaders who took office this year have renewed the drive to urbanize.
However, while city wages are higher, so are their costs of living, exacerbated by a hukou residency system that bars Chinese from receiving benefits such as healthcare and schooling outside their registered hometown.
Nearly half of left-behind children live with neither of their parents, the All-China Women's Federation said in a report last month.
Almost 70 percent of those stay with grandparents, the vast majority of whom have only a primary school education. A quarter have other guardians, and 7 percent survive on their own.
"Because of their long-term separation from parents, familial affection is lacking and household education is weak," the report said. "The quality of life, mental and physical health and surroundings of left-behind children are all inferior to those whose parents are looking after them."
However, many families feel that the financial rewards offered by China's economic boom means the price is worth paying.
In Keke's village, Xiong, who now works in property in Guangdong, laments the prime working years she spent raising her son and daughter at home as a lost opportunity.
One set of grandparents were too frail to take them and another were already looking after others, she says.
"Raising them was so tiring. If the grandparents had been able to take care of my kids, then I would have gone out a lot sooner," she says.
Grandparents say they feel hampered as caretakers by poor health, limited schooling and a lack of authority.
A couple surnamed Ouyang — both 83, hard of hearing and too weak to shuffle far beyond their front door — hardly interact with the preteen granddaughter in their care.
Nobody cleans the house, the grandmother says, except when the elder sister visits from university once a month.
A sprightlier 86-year-old Wan Daizhen has more energy for the 14-year-old grandson she has raised for 13 years, but worries the boy would be better behaved with his parents.
"He really misses them," she says. "He doesn't listen as much to what I say."
For 72-year-old Zheng Futao, the schoolwork of the 12-year-old grandson he has raised since infancy has long surpassed his ability to help.
"First, second, third, fourth grade were okay. But not after he got to middle school, with biology, English," he says. "Of the 26 letters of the alphabet I only know 'C.'"
Comments will be moderated. Keep comments relevant to the article. Remarks containing abusive and obscene language, personal attacks of any kind or promotion will be removed and the user banned. Final decision will be at the discretion of the Taipei Times.