FEATURE: Sectarian violence creeps into Pakistan's art scene
A gold bullet on top of Islamic stenciling, open sores and festering wounds, life-size sculptures of silenced men whose faces are obscured.
Pakistan's sectarian crisis has grown so acute that it is creeping into the country's contemporary art scene, spurring young artists to question the causes and assumptions behind the violent Sunni-Shiite divide.
Hardline Sunni groups have killed hundreds of minority Shiites in suicide bomb attacks and shootings.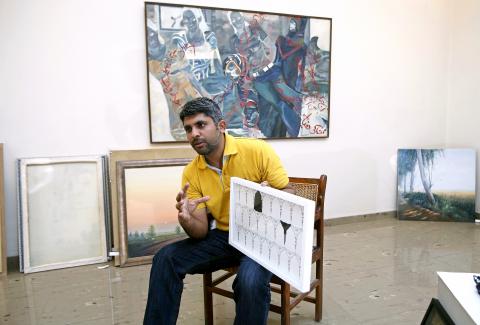 Imran Mudassar, 31, a fine art teacher, shows his latest piece during an interview at Government College University in Lahore, Pakistan, on March 22.
Photo: Reuters
Shiites say they are living in a state of siege, and some call it genocide. Fear has driven some families abroad, while others have taken up arms against groups backed by al-Qaeda.
Some artists have taken to expressing their anger at the carnage through their work.
In the elegant city of Lahore, criss-crossed with colonial-era boulevards and home to a bevy of lively artists, Imran Mudassar balances one of his latest pieces, Secret Love, on his knees, a diptych of a golden bullet and human heart against interwoven Islamic motifs.
"I've started to incorporate the clashing of the Shiites and Sunnis into my work," the 31-year-old artist, who is secular Sunni, said at Government College University, where he is also a lecturer.
In Religious Landscape, he decorated a 2.1m high white canvas with designs from the Koran, Islam's holy book. Red gashes resembling flesh have been torn across it.
"Both faiths adhere to the Koran, but they fight over the Koran, too," Mudassar said of the piece, which sold for 135,000 rupees (US$1,372) after being exhibited last month.
The nightmare scenario for Pakistan, a nuclear-armed US ally, would be sectarian war. While Pakistan is not close to one, fear and instability are growing.
"If the violence continues, if the situation doesn't settle down, then more and more will start producing this kind of art," said Mudassar, whose self-portraits of a bullet-riddled torso a year ago earned him an established spot on the art scene.
Pakistani art has been on an upward trajectory since the 1980s, buoyed by media attention and domestic sales. Galleries have sprung up in cities and the two major art schools — the National College of Arts (NCA) in Lahore and in the city of Rawalpindi — produce a slew of talented artists every year.
The scene was given a boost when another young artist, Imran Qureshi, was named Deutshce Bank's "Artist of the Year" for this year, celebrating his work addressing religion, terrorism and the mutating relationship between Muslim countries and the West.
Qureshi has talked of the bloodshed in his homeland being the inspiration for an installation of white interlocking bricks, which are splashed with red paint in the shapes of flowers and splotches of blood.
While Pakistani artists have traditionally focused on tumultuous political and social changes, with their work even thriving on them, they are now also engaged in self-examination, art professors and gallery workers say.
"Recent turmoil has sparked a new trend and artists are now looking inward," said Zahra Khan, curator at the year-old Satrang Gallery, tucked inside the opulent Serena Hotel in the capital, Islamabad.
In the leafy capital, art is complemented by black graffiti that has appeared in recent weeks, scrawled on brick buildings and in courtyards, saying "Stop Shia Genocide" in capital letters in English.
In March, the Satrang Gallery featured a sculpture, Strained and Sustained, by 28-year-old up-and-coming artist Saud Baloch, of a person curled up in a heap on the floor, encased in a latex russet-colored sack designed to feel like skin.
The piece is one of several haunting life-size sculptures by Baloch which feature people made blind and voiceless, which he says reflect brutality in his native Baluchistan, one of Pakistan's most volatile provinces.
Baloch is from Nushki, a town not far from the provincial capital, Quetta, which has borne the brunt of violence against Shiite communities.
In addition, ethnic Baluch separatists are fighting a low-level insurgency. Rights groups accuse security forces of waging a campaign of abduction and murder to try to subdue them, charges authorities say are exaggerated.
"My inspiration comes from where I belong. Shiites are being killed, as are the ethnic Baluch. Religious hatred and racism is affecting the whole country, pitting people against each other," Baloch said at Lahore's NCA, from where he recently graduated.
In its dappled garden is No Fear, a statue Baloch says is a self-portrait. Made of fiberglass and fabric, a jeans-clad man with a satchel by his feet stands hooded and bowed, his hands tied behind his back.
"It's about feeling unsafe," he said.
Identity, or the lack of it, is the overriding theme for the January graduates of the NCA in Rawalpindi, a garrison city adjoining Islamabad.
Works at their final-year exhibit at Islamabad's National Art Gallery include glaringly empty white boxes, a Pakistani twist on The Frog Prince fairy tale and faces in masks.
The "white noise" of increasing sectarian violence and "the cluttering of our minds with religious news" led graduate Schezre Syed to create The Blind Print, which contains 17 light boxes framing white watercolor sheets, all blank except for a date stamp of the years 2018 and 2019.
"Both sides in the Sunni-Shiite issue think they are right, and I took this as a perception of reality. When people look at this piece, they question what is real and what is not," 23-year-old Syed said.
Her classmate, Benazir Hayat, produced a series of three-color self-portraits with her face obscured by masks: one is conical and Venetian, another white and translucent.
"We are not really safe in our own land and we all need a mask to hide our faces," she said.
Comments will be moderated. Keep comments relevant to the article. Remarks containing abusive and obscene language, personal attacks of any kind or promotion will be removed and the user banned. Final decision will be at the discretion of the Taipei Times.