Obama tours symbolic sites in Israel
IN PURSUIT OF PEACE: The US president was to fly to Jordan yesterday afternoon for talks with the king about regional problems, including the civil war in Syria
On the last day of a visit to Israel, US President Barack Obama paid his respects at the tomb of the founder of modern Zionism and also the grave of a murdered Israeli prime minister, who has become a symbol of the peace process.
He then visited Israel's Yad Vashem Holocaust memorial, adding layers of symbolic gestures to a trip short of real substance, but laden with presidential appeals for both Israelis and Palestinians to resume long-stalled peace talks.
Obama was due to fly to nearby Jordan in the afternoon for talks with King Abdullah, a key US Middle East ally, about an array of pressing regional problems, including the civil war in neighboring Syria.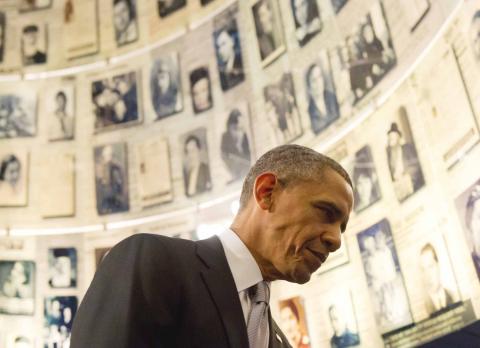 US President Barack Obama on Thursday tours the Hall of Names at the Yad Vashem Holocaust Museum in Jerusalem, which commemorates the 6 million Jewish Holocaust victims killed by the Nazis during World War II.
Photo: AFP
Basking in bright sunshine, Obama walked through Jerusalem's Mount Herzl cemetery, laying a wreath on the black marble tomb of Theodor Herzl, the Zionist visionary who died more than four decades before the 1948 founding of Israel.
Officials said the visit was aimed at correcting an impression the president had given in a speech in Cairo in 2009, where he appeared to argue that the legitimacy of the Jewish state stemmed from the Holocaust.
"Nothing could be more powerful," Obama said in Yad Vashem's Hall of Names, a memorial to the 6 million Jews killed by the Nazis in World War II.
Obama also laid a wreath at the final resting place of Yitzhak Rabin, the Israeli statesman assassinated in 1995 by a Jewish extremist enraged by his efforts to make peace with Palestinians.
"Sometimes it is harder to embark on peace than to embark on war," Rabin's daughter, Dalia, quoted Obama as telling the family at the grave site.
Obama has attempted to win over a skeptical Israeli public during his trip, assuring them of full US support at a time of growing tensions with Iran over its nuclear ambitions and anxiety tied to the burgeoning civil war in Syria.
However, in a speech on Wednesday, he also urged Israelis to push their political leaders to take risks and secure peace with the Palestinians, calling on his audience of university students to put themselves in the shoes of their occupied neighbors.
Winning rapturous applause in Jerusalem, the president received a cooler reception on Thursday during talks in the West Bank with Palestinians, who are disappointed Washington is not applying more pressure on Israel to halt settlement activity.
Obama has reiterated to Israeli Prime Minister Benjamin Netanyahu that settlement building in the West Bank, land the Palestinians want as part of a future state, was detrimental to peace efforts.
However, he has retreated from the overt calls during his first term for a halt to the building and he has offered no new peace initiative during his trip, saying he had just come to listen.
After a final round of talks with Netanyahu yesterday, he was to meet Palestinian President Mahmoud Abbas again during a visit to the West Bank city of Bethlehem to see the Church of the Nativity, where Christians believe Jesus was born.
The tour is seen as a message of solidarity to dwindling Christian communities in a turbulent region.
Comments will be moderated. Keep comments relevant to the article. Remarks containing abusive and obscene language, personal attacks of any kind or promotion will be removed and the user banned. Final decision will be at the discretion of the Taipei Times.