HK TV drama plays out uneasy ties with China
In Hong Kong, the tensions between residents and Chinese visitors dominate the headlines of the territory's papers, with mainlanders blamed for a shortage of school slots, bad manners in stores and a hypercharged property market.
So it should come as little surprise that a television show would come along to tap into these anxieties and, perhaps in a gift to the show's producers, also draw the attention of mainland censors.
Inbound Troubles tells the story of two cousins — one from Hong Kong and the other from the mainland — and the tensions in a city whose enviable wealth increasingly rests on a flood of mainland visitors who nevertheless draw scorn for lavish spending and, some say, boorish ways.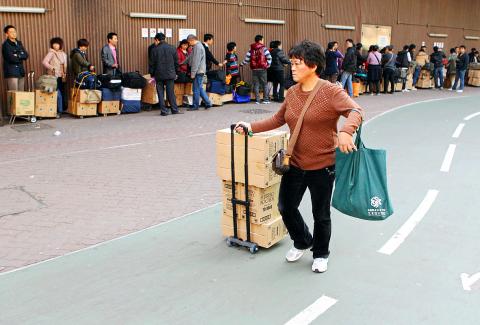 Visitors from mainland China wait in a line with their goods outside the Sheung Shui train station in Hong Kong on Jan. 5. An influx of parallel traders in Hong Kong who purchase items tax-free such as baby milk formula, diapers, soft drinks and cosmetics and resell them in mainland China at a profit is causing growing unrest with local residents who say the practice has driven up retail prices.
Photo: AFP
In the show, the cousin from mainland China is shown littering, running red lights and parking illegally, while the one from Hong Kong makes his living with a travel agency that specializes in encouraging new arrivals from the mainland to part with more of their cash.
MILK SHORTAGE
The TVB network show, which has just ended its monthlong run, was aired as the territory's leadership struggled to confront the latest supposed peril attributed to mainlanders: a shortage of baby formula said to have been caused by the hoarding of supplies by mainlanders who have crossed the border into Hong Kong (apparently out of fear of tainted supplies in China).
Some Hong Kong residents have become so agitated about the formula milk problem that they have asked US President Barack Obama to intervene, using a petition on the White House Web site titled, "Baby hunger outbreak in Hong Kong, international aid requested."
The petition has already drawn 23,000 signatures.
The show's candid depictions of mainland-Hong Kong relations — one scene focuses on the formula shortage — have drawn hundreds of complaints to Hong Kong regulators from viewers upset at things like its portrayals of mainlanders and its depiction of the Hong Kong's tourism industry as predatory. And Chinese officials censored trailers for the program on the mainland, where viewers could see it on TVB's overseas channel or through video streaming.
China also did some trimming of the version shown on the mainland, when the program began airing there. It snipped out a depiction of a protest outside a Hong Kong clothing store, a scene apparently based on a demonstration against a Dolce & Gabbana store that let free-spending mainlanders photograph merchandise, while banning Hong Kong residents from doing the same.
Still, the show clearly struck a nerve, becoming the TVB channel's highest-rated drama so far this year.
To some, the tensions captured in the show are a natural outgrowth of fears about Beijing's increasing influence in Hong Kong, a former British colony that retained considerable legal autonomy and civil rights after it was handed back to China in 1997.
"Politically, more and more Hong Kongers resent the fact that Beijing is tightening its control over Hong Kong's political development," Willy Lam (林和立), an adjunct professor of history at the Chinese University of Hong Kong, wrote in an e-mail.
He added that Hong Kong Chief Executive Leung Chun-ying (梁振英) "is seen as a yes-man chief executive bowing to every instruction from the mainland authorities."
"There is a common feeling that fat cat mainlanders are driving up real estate prices," he said. "You have witnessed of course the drama over formula milk powder."
Although polls show that an increasing number of Hong Kong residents hold pessimistic views about the territory's future and Hong Kong-mainland relations, in Inbound Troubles the two cousins gradually acclimate to each other, with the one from the mainland adapting to local ways.
Viewers say they appreciate the show's realistic depictions of the shifting social dynamics of Hong Kong and the growing impact of mainland China and its visitors on the territory.
"I have a few bad experiences with mainlanders — most of them have to do with them jumping queues or being rude," said Tai Wing-yi, a student at Hong Kong Baptist University. "But not all are like that. Some of my classmates are from the mainland, and they are nice to be around, and they work hard. In fact, they are the ones who contribute more than the locals in group projects."
LIGHT-HEARTED
"The show highlighted the tension between mainland Chinese and locals in a funny way, and got the message across in a light-hearted manner," she said.
Chen Min, a mainland journalist who has visited Hong Kong many times, said that his social circle in the territory included many more-educated and better-off local residents, who were usually polite, but that not all encounters were so smooth.
"Occasionally you run into problems that you didn't encounter before," he said. "Like a taxi driver who refuses to take you because you speak Mandarin, although you're holding a map and address in Chinese."
On another occasion, he was lugging a heavy suitcase to a taxi, and "the driver joked, 'Carrying cash to buy an apartment?'" Chen said.
The popularity of the show — there is already talk of a movie — suggests that it could pave the way for treatments with similar themes, much as, in the US, All in the Family started a subgenre of politically tinged situation comedies during the turbulence of the Vietnam War.
In an opinion piece in China's Global Times, Wendy Wang, a freelance writer from Shanghai, said that mainlanders have long been derided on Hong Kong television, with men often portrayed as mobsters and women as flirty or worse.
After the 1997 return of Hong Kong to Chinese rule, "mainlanders' characters grew wealthier, but not wiser," she wrote.
Comments will be moderated. Keep comments relevant to the article. Remarks containing abusive and obscene language, personal attacks of any kind or promotion will be removed and the user banned. Final decision will be at the discretion of the Taipei Times.