French miscalculated rebel firepower in Somalia raid
French troops underestimated the strength of Islamist rebels when they launched a failed bid to free an intelligence officer held hostage in Somalia, the French defense minister said.
One French soldier died and another went missing during the raid in which the hostage was probably killed by his captors, French Minister of Defense Jean-Yves Le Drian said on Saturday. Seventeen guerrillas were killed, he added.
The overnight operation involving about 50 troops and at least five helicopters to free the intelligence agent, with the alias of Denis Allex, was launched by elite forces from the DGSE secret service, he said.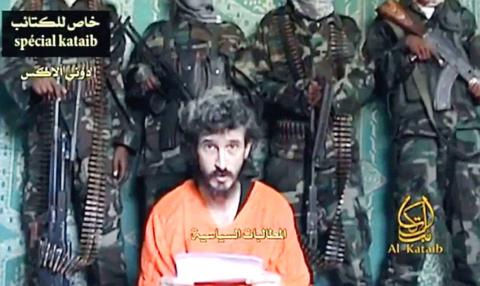 An undated TV grab of footage shot by al-Kataib Media, made available by MAXPPP on Saturday, shows Denis Allex, a French hostage allegedly held by Somalian militants, who was reportedly killed during a failed rescue mission by French soldiers.
Photo: EPA
"The resistance was stronger than expected and the heavy weaponry at the hands of the terrorists were clearly underestimated," Le Drian said.
He said that one commando was dead and another missing and that "all indications" are that Allex was killed by his captors belonging to al-Shabaab, a Somalian Islamist group affiliated with al-Qaeda.
However, the group denied that Allex was dead and said they were also holding the missing French commando. They also threatened reprisals against France.
"In the end, it will be the French citizens who will inevitably taste the bitter consequences of their government's devil-may-care attitude towards hostages," an al-Shabaab statement said.
French President Francois Hollande said the operation failed "despite the sacrifice of two of our soldiers and without doubt the killing of our hostage," but underscored France's determination to "not give in to the blackmail of terrorists."
Le Drian said the raid in Bulomarer, about 110km south of Mogadishu, was sparked by the "intransigence of the terrorists who have refused to negotiate for three-and-a-half years and were holding Denis Allex in inhuman conditions."
Although the raid happened on Friday, the same day French troops launched air strikes on Islamist militants in Mali, in west Africa, the minister said the operations were not connected.
Allex is among nine French hostages in Africa, of whom at least six are held by al-Qaeda in the Islamic Maghreb.
A French expert involved in several hostage negotiations said: "Talks with the Somali Islamists had become impossible due to the huge ransom demanded and the marked opposition of the Americans to the payment of ransom."
"Denis Allex became a human shield and an operation had become indispensable," the expert said, speaking on condition of anonymity.
A source close to the case, also speaking on condition of anonymity said the DGSE had been preparing a raid to free Allex for more than a year.
It had "been canceled at the last minute three or four times as we did not have a solid confirmation of his location," the source added.
The al-Shabaab statement said the French had carried away "several" of their dead.
"The helicopters attacked a house ... upon the assumption that Denis Allex was being held at that location, but owing to a fatal intelligence blunder, the rescue mission turned disastrously wrong.
"The injured French soldier is now in the custody of the mujahidin and Allex still remains safe and far from the location of the battle," it said.
Bulomarer resident Idris Youssouf said: "We don't know exactly what happened because the attack took place at night, but this morning we saw several corpses, including that of a white man."
"Three civilians were also killed in the gunfight," he said.
Allex was kidnapped in Somalia on July 14, 2009 — Bastille Day — along with a colleague. A second hostage, named as Marc Aubriere, was free a month later, in what the French government said was an escape.
Al-Shabaab lost its main strongholds in the south and center of Somalia following an offensive launched in mid-2011 by an African Union force, but it still controls some rural areas.
Allex appeared in a video in June 2010 appealing to Paris to drop its support for the Somalian government.
He last appeared in another video in October last year looking gaunt and calling on Hollande to work for his release.
Somalia has not had an effective central government since 1991.
France has a recent history of botched operations, including a failed joint raid with Niger forces in 2011 that left both hostages dead and another in Mali that led to the hostage's execution.
In 2009, French commandos launched a raid to free a French family whose yacht had been hijacked by Somalian pirates. They retook the boat, but accidentally shot the father.
Comments will be moderated. Keep comments relevant to the article. Remarks containing abusive and obscene language, personal attacks of any kind or promotion will be removed and the user banned. Final decision will be at the discretion of the Taipei Times.