Israelis move out West Bank protesters
FOLLOWING SUIT: The protesters modeled their action on outposts that Jewish settler activists have set up to try to force the government's hand into authorizing settlements
Israeli police backed by bulldozers early yesterday evicted Palestinian protesters from a hilltop camp they set up in a West Bank area slated for Jewish settlement, witnesses said.
About 200 Palestinian activists set up the camp, named Bab al-Shams (Gate of the Sun in Arabic), on Friday in the controversial E1 area between Israeli annexed east Jerusalem and the settlement of Maaleh Adumim.
The protesters had defied Israeli orders to leave until police moved in at around 2.30am yesterday.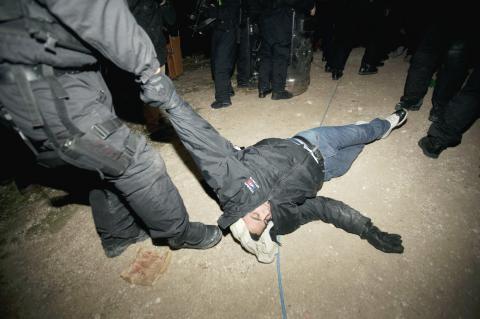 Israeli border police evict a Palestinian protester from the West Bank area known as E1 between Israeli annexed east Jerusalem and the settlement of Maaleh Adumim yesterday.
Photo: AFP
"Hundreds of Israeli police came from all directions, surrounding all those who were in the tents and arresting them one by one," Palestinian Legislator Mustafa Barghouti said.
However, police spokesman Micky Rosenfeld said that no arrests had been made.
"They were told they were trespassing and carefully escorted from the site one by one," he said. "Nobody was hurt on either side."
About 500 police took part in the operation, he said.
Protest organizers said that six people were hurt as they were carried away by police and vowed that the protest would not be the last of its kind.
"This is not the end of the popular struggle and it will continue in its full strength," the Popular Struggle Coordination Committee said in a statement.
Palestinian activist Abdullah Abu Rahma said the protesters hoped to repitch their tents to continue their protest.
"Today, we will see if we can return," he said.
Israeli Prime Minister Benjamin Netanyahu's office had said on Saturday night that he wanted the protesters removed at once and that state lawyers were asking the Israeli supreme court to overturn an injunction postponing the eviction issued on Friday.
In documents released to the media, they argued that if the protest were allowed to continue there was a danger that rightwing Israeli settlers, "some of them extremists," would head for the site to stage counter-demonstrations which could result in "breaches of the peace against Palestinians and security forces."
The Palestinians modeled their action on the wildcat outposts that Jewish settler activists have set up on Palestinian land to try to force the government's hand into authorizing settlements.
"It's nice to build a village here without Israeli permission. We are here to stay," one activist from Ramallah said on Saturday afternoon on condition of anonymity.
"This is a new type of resistance, different to armed resistance or stone-throwing," said another protester, Omar Ghassan, 27, from Ramallah.
The international community regards all Jewish settlements on occupied Palestinian land as illegal.
The Israeli government makes a distinction between those it has authorized and those it has not, though it sometimes approves the latter.
Comments will be moderated. Keep comments relevant to the article. Remarks containing abusive and obscene language, personal attacks of any kind or promotion will be removed and the user banned. Final decision will be at the discretion of the Taipei Times.