Police fear deaths in Australian wildfires
RAGING THROUGH: More than 3,000 people were evacuated from their homes, leaving many stranded in emergency shelters as fires raged and cut off roads
As many as 100 people were missing and some feared dead yesterday after wildfires swept through the Australian island state of Tasmania, forcing thousands to flee as residents described trees exploding in the heat.
Acting Tasmania police commissioner Scott Tilyard said officers were investigating several reports of missing persons after fires ravaged the south of the state.
"I am fearful that someone may have died in this fire ... it is a very distinct possibility still and I think people need to brace themselves that that may occur," Tilyard told reporters, saying there were grave fears in a "handful" of cases.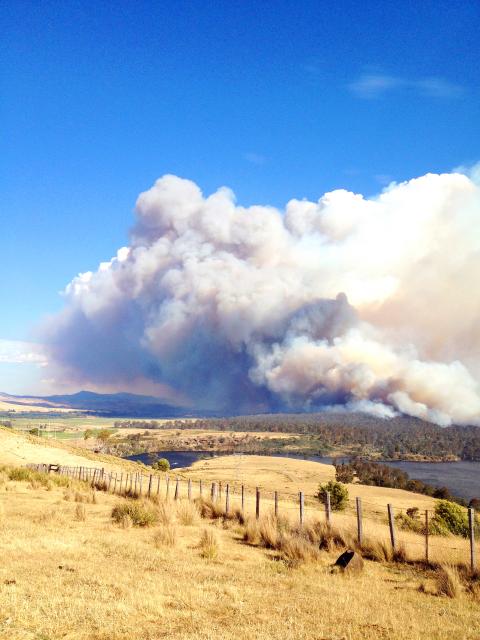 A bushfire burns near Ouse, north of Hobart, Tasmania, Australia, on Friday.
Photo: EPA
"Whilst we have had no known deaths associated with these fires at this particular point in time, I want to make it quite clear that it is still far too early to confirm that that is not the case," he added.
Police and troops were going door to door in the worst-hit town of Dunalley to search for the missing and confirm no lives had been lost in conditions officials had described as catastrophic.
About 70 homes were destroyed and the main street was razed, with the local school reduced to ashes and trees exploding in the heat.
"The trees just went off. They were like firecrackers — 20, 30 feet [6m, 9m] high, the flames," Dunalley resident Tony Young said.
Australian Prime Minister Julia Gillard will tour the devastated town on today. The government also warned of further danger across the nation from extreme heat predicted in several states this week.
Britain's Queen Elizabeth II, Australia's head of state, sent her condolences to Tasmania, expressing "deep concern" at the destruction and offering her sympathy to those who had lost homes and livelihoods.
"I offer my support and admiration for the firefighters, volunteers and emergency services officers who have been working tirelessly to contain the situation," the monarch said in a written message published by the Australian Associated Press.
About 3,000 people were evacuated from their homes and many were stranded yesterday in emergency shelters as the fires raged to the east and west of the state capital Hobart, cutting off roads.
Residents returning to the wreckage of their homes described the devastation as "armageddon," while others recounted desperate moments as the fire tore through, forcing them to take shelter in the Dunalley canal.
One family was saved by a water-bombing aircraft which arrived overhead as flames surrounded their waterfront caravan. They were armed only with buckets.
The Tasmania Fire Service downgraded two major blazes from emergency to watch-and-act status, with calmer conditions bringing a much-needed reprieve for crews ahead of worsening fire weather expected later in the week.
Tasmania Fire Service chief Mike Brown estimated that there were "hundreds of kilometers of uncontrolled fire" still burning in heavily forested areas that are difficult to access.
"We have got a lot of work ahead," Brown said. "We are going to be in this situation for a number of days yet."
High winds which fanned the worst of the blazes had dropped off, giving crews a valuable opportunity to contain some 20 fires still active before conditions were expected to worsen again, Tasmania Fire Service spokesman John Holloway said.
"[Crews will be] doing some more active firefighting rather than just property protection," Holloway said. "We're looking at some warmer weather again through on Thursday, so if we've got this window to work on these fires and get some form of control around them, we're going to take that opportunity when we can."
Hot and dry summer conditions have seen fires start in a number of Australian states this month, with heatwaves in several major cities. Wildfires are a fact of life in arid Australia, where 173 people perished in the 2009 Black Saturday firestorm, the nation's worst natural disaster of modern times.
Comments will be moderated. Keep comments relevant to the article. Remarks containing abusive and obscene language, personal attacks of any kind or promotion will be removed and the user banned. Final decision will be at the discretion of the Taipei Times.