Sunni Iraqis protest against Shiite leader
SECTARIAN STRIFE: Tens of thousands of Sunnis across Iraq accuse the prime minister of being influenced by Shiite Iran and making unfair laws targeting them
Thousands of protesters from Iraq's Sunni Muslim minority poured onto the streets after Friday prayers in a show of force against Shiite Iraqi Prime Minister Nuri al-Maliki, keeping up a week-long blockade of a major highway.
About 60,000 people blocked the main road through Fallujah, 50km west of the capital, Baghdad, setting fire to the flag of Shiite Iran and shouting: "Out, out Iran! Baghdad stays free!" and "Maliki you coward, don't take your advice from Iran."
Many Sunnis, whose community dominated Iraq until the fall of former Iraqi president Saddam Hussein in 2003, accuse al-Maliki of refusing to share power and of being under the sway of its non-Arab neighbor.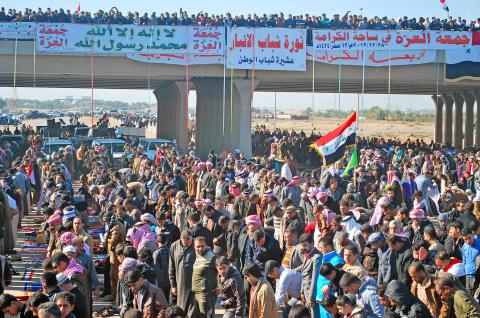 Protesters pray on Friday during a demonstration in Ramadi, Iraq, while blocking the main highway to Syria and Jordan, and calling for the release of prisoners they allege were arrested on sectarian grounds by Iraq's Shiite-led authorities.
Photo: AFP
"We will not leave this place until all our demands are fulfilled, including the toppling of the Maliki government," said 31-year-old Omar al-Dahal at a protest in Ramadi, where more than 100,000 protesters blocked the same highway as it leads to neighboring Syria and Jordan.
Activists' demands include an end to the marginalization of Sunnis, the abolition of anti-terrorism laws they say are used to target them and the release of detainees.
Protests flared last week in Anbar Province, the Sunni stronghold in western Iraq where demonstrators have mounted the blockades, after troops loyal to al-Maliki, who is from the Shiite majority, detained bodyguards of his finance minister, a Sunni.
Demonstrations were also held in the northern city of Mosul and in Samarra, where protesters chanted: "The people want to bring down the regime," echoing the slogan used in popular revolts that ousted leaders in Tunisia, Egypt, Libya and Yemen.
The protests are likely to add to concerns that the civil war in neighboring Syria, where majority Sunnis are fighting to topple a ruler backed by Shiite Iran, would drive Iraq back to the sectarian slaughter of 2005-2007.
Militants linked to al-Qaeda appear to be joining the ranks of Syrian rebels across the border and regrouping in Anbar, which was almost entirely controlled by militants at the height of Iraq's insurgency.
Security forces did not move to break up the protests, but prevented people from other provinces from heading to Anbar to join the rallies there.
Speaking at a "reconciliation" conference broadcast on television, Maliki called for dialogue.
"It is not acceptable to express something by blocking roads, inciting sedition and sectarianism, killing, or blowing the trumpet of war and dividing Iraq," he said.
A masked protester who refused to give his name recalled the role of Anbar's tribes, first in fighting US troops before allying with them to drive militants out — turning on fellow Sunni al-Qaeda because of its indiscriminate use of violence.
"Just as we terrified the Americans with this mask, and kicked al-Qaeda out, we will terrify the government with it," he said.
Highlighting the increasingly regional dimension, protesters in Fallujah raised pictures of Turkish Prime Minister Recep Tayyip Erdogan, who has lined up against Syrian President Bashar al-Assad and has sparred with al-Maliki.
Comments will be moderated. Keep comments relevant to the article. Remarks containing abusive and obscene language, personal attacks of any kind or promotion will be removed and the user banned. Final decision will be at the discretion of the Taipei Times.