Argentina raises security as fatal looting hits cities
TRADING BLAME: Buenos Aires says labor unions are responsible for the violence sweeping the nation, but unions say the unrest was stoked by the government
Thousands of extra police officers were deployed on Saturday in Argentine cities where looting earlier had left two dead, about 100 injured and hundreds arrested.
The Argentine government and labor unions traded blame for the violence on Thursday and Friday, which came amid a growing wave of anger with Argentine President Cristina Fernandez's administration over the rising crime and economic uncertainty plaguing the country.
SPECIAL SECURITY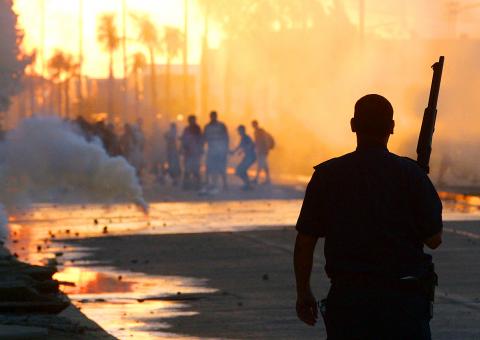 A policeman disperses looters after an attack at a supermarket in San Fernando in the Argentine province of Buenos Aires on Friday.
Photo: AFP
In Rosario, an industrial and farm export hub where the two people were killed on Friday, a top government official said a special security operation "will continue at least until Jan. 1."
Buenos Aires Governor Daniel Sciolo said on Radio Mitro that he had instructed officials to "increase patrols and the presence of troops in the province."
UNION
About 3,000 police officers were deployed to the outskirts of the Argentine capital, where crowds looted shops and supermarkets on Friday.
Argentine Cabinet boss Juan Abal Medina accused truckers from the prominent General Confederation of Labor union of participating in the looting.
Union head Hugo Moyano dismissed the accusation on local radio as "nonsense," then accused the government of orchestrating the unrest "to discredit and disqualify leaders who do not share their politics."
MOB RULE
Earlier, soldiers were sent to Bariloche, a tourist city best known for skiing which lies 1,650km miles southwest of Buenos Aires, where crowds stormed at least two supermarkets on Thursday.
The mob stole television sets, bicycles and electrical appliances, witnesses said.
Looting was also reported in cities in the Tucuman, Corrientes, Chaco, Misiones, Cordoba and Rio Negro provinces, in most cases resulting in injuries and arrests.
Comments will be moderated. Keep comments relevant to the article. Remarks containing abusive and obscene language, personal attacks of any kind or promotion will be removed and the user banned. Final decision will be at the discretion of the Taipei Times.