US slams Ukraine poll as 'step backwards'
The US and international observers said Ukraine's elections were a step backwards for democracy as the ruling party was set to win against allies of jailed former Ukrainian prime minister Yulia Tymoshenko.
Ukrainian Prime Minister Mykola Azarov predicted on Monday that the ruling Regions Party had won an outright majority in Sunday's ballot following a disappointing performance by another opposition group led by world heavyweight boxer Vitaly Klitschko.
"We expect these results to hold," Azarov told reporters.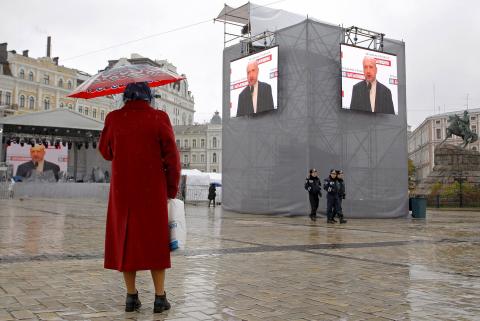 A woman watches monitors as Oleksandr Turchynov, first deputy of opposition party Batkivshchyna (Motherland), speaks during a news conference in Kiev on Monday.
Photo: EPA
However, observers from the Organization for Security and Cooperation in Europe (OSCE) issued an unusually strong statement describing the election process as a step backwards for Ukraine.
"Considering the abuse of power, and the excessive role of money in this election, democratic progress appears to have reversed in Ukraine," OSCE special coordinator Walburga Habsburg Douglas said.
Washington also described the conduct of the elections as "a step backwards" for Ukrainian democracy.
Acting State Department spokesman Mark Toner pointed to issues such as using government resources to help ruling party candidates, hampering media access and the harassment of opposition candidates as prompting US concerns.
"While election day was peaceful overall and observed by a large number of domestic and international observers, we are troubled by allegations of fraud and falsification in the voting process and tabulation," Toner said.
Ukraine's 2010 presidential election — which saw Viktor Yanukovych defeat Tymoshenko amid disappointment over the fruits of the 2004 Orange Revolution popular uprising — had been hailed by observers as the cleanest ever in the ex-Soviet Union.
The EU also put Ukraine on notice that it would be watching the country carefully after a vote described by EU High Representative for Foreign Affairs and Security Policy Catherine Ashton and EU Commissioner for Enlargement and European Neighborhood Policy Stefan Fule as a "mixed picture with several shortcomings."
Alluding to Tymoshenko, they also expressed their "regret that the consequences of trials that did not respect international standards have prevented opposition representatives from standing."
The Ukrainian foreign ministry quickly issued a statement in which it vowed to "carefully analyze" the observers' criticisms and "improve the election legislation and practice."
The criticism by the OSCE is all the more bitter for Ukraine as it is due to take the chairmanship of the body next year.
Official results gave Yanukovych's Regions Party 33.2 percent of the vote against 23.2 percent for Tymoshenko's opposition party, with 73 percent of precincts reporting in the proportional system that will determine half the seats in the new chamber.
The ruling party was also on course to win at least 114 seats out of the 225 that are being determined by first-past-the-post single mandate constituencies.
Tymoshenko's party said it had conducted a parallel count which showed the Regions Party leading her faction by a much narrower margin of just over four percent — an outcome which had also been predicted by exit polls.
The ex-premier then announced she was launching a hunger strike from inside the state hospital where she was moved this summer from jail to receive treatment for a debilitating back condition.
"These elections were falsified from start to finish," Tymoshenko said in a statement read by her lawyer Sergiy Vlasenko.
The Communists were polling strongly in third place with 14.5 percent. Klitschko's new UDAR (Punch) party was on 13.2 percent — a disappointment given that some pre-election opinion polls had placed it second.
The ultra-nationalist Svoboda (Freedom) party was also due to break the 5 percent threshold needed to make parliament and was polling 9 percent.
Tymoshenko's and Klitschko's parties are expected to form an alliance with Svoboda in a bid to form a bloc large enough to set the chamber's agenda.
Comments will be moderated. Keep comments relevant to the article. Remarks containing abusive and obscene language, personal attacks of any kind or promotion will be removed and the user banned. Final decision will be at the discretion of the Taipei Times.