Death toll tops 100 in Myanmar ethnic strife
The death toll from recent ethnic violence in Myanmar's western state of Rakhine has surpassed 100, an official said yesterday, as the government warned that the strife risks harming the country's reputation as it seeks to install democratic rule.
Rakhine State spokesman Win Myaing said 112 people had been killed in clashes that began on Sunday between members of the Buddhist Rakhine and the Muslim Rohingya communities. He said 72 people were reported injured, including 10 children.
The government announced earlier that almost 2,000 homes had been burned down in the conflict.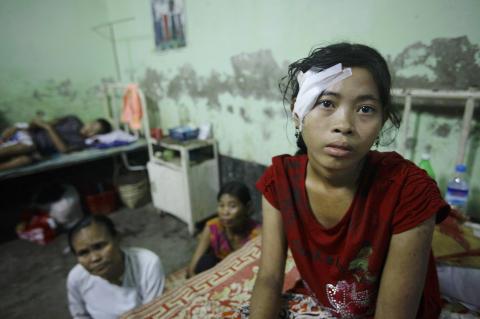 Hla Hla Myint, a victim of recent violence, rests yesterday in a bed at a hospital in Kyuktaw Township, Myanmar.
Photo: Reuters
In June, ethnic violence in the state left at least 90 people dead and destroyed more than 3,000 homes. About 75,000 have since been living in refugee camps.
The mob violence has seen entire villages torched and has drawn international calls for government intervention.
The long-brewing conflict is rooted in a dispute over the Muslim residents' origin. Although many Rohingya have lived in Myanmar for generations, they are widely denigrated as intruders who came from neighboring Bangladesh to steal scarce land.
"As the international community is closely watching Myanmar's democratic transition, such unrest could tarnish the image of the country," said a statement from the office of Burmese President Thein Sein published yesterday in the state-run Myanma Ahlin newspaper.
"The army, police, and authorities in cooperation with local people will try to restore peace and stability and will take legal action against any individual or organization that is trying to instigate the unrest," the statement warned.
A statement issued late on Thursday by the office of UN Secretary-General Ban Ki-moon described the latest violence as "deeply troubling." He called on Myanmar authorities "to take urgent and effective action to bring under control all cases of lawlessness."
The crisis has proven a major challenge to Thein Sein's government and to opposition leader and Nobel peace laureate Aung San Suu Kyi, who has been criticized by some outsiders as failing to speak out strongly against what they see as repression of the Rohingya.
Comments will be moderated. Keep comments relevant to the article. Remarks containing abusive and obscene language, personal attacks of any kind or promotion will be removed and the user banned. Final decision will be at the discretion of the Taipei Times.