FEATURE: Wary of China, Southeast Asia beefs up its defense
Indonesia is buying submarines from South Korea and coastal radar systems from China and the US. Vietnam is getting submarines and combat jets from Russia, while Singapore — the world's fifth-largest weapons importer — is adding to its sophisticated arsenal.
Wary of China and flush with economic success, Southeast Asia is ramping up spending on military hardware.
Territorial disputes in the South China Sea, fueled by the promise of rich oil and gas deposits, have prompted Vietnam, Malaysia, Philippines and Brunei to try to offset China's growing naval power.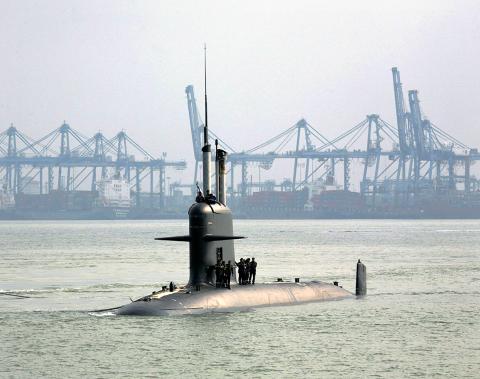 Malaysia's first submarine, KD Tunku Abdul Rahman, arrives at a jetty in Port Klang outside Kuala Lumpu on Sept. 3, 2009.
Photo: Reuters
Even for those away from that fray, like Indonesia, Thailand and Singapore, maritime security has been a major focus.
As Southeast Asia's economies boomed, defense spending grew 42 percent in real terms from 2002 to last year, data from the Stockholm International Peace Research Institute (SIPRI) shows.
High on the list are warships, patrol boats, radar systems and combat planes, along with submarines and anti-ship missiles, which are particularly effective in denying access to sea lanes.
"Submarines are a big thing," executive director for Asia at the International Institute for Strategic Studies (IISS) Tim Huxley said. "They can do immense damage without being seen, without being anticipated, and they can do that anywhere in the region."
For decades, much of Southeast Asia spent little on weapons other than guns and small tanks, but with China's growing muscle and more funds available, the shopping lists are getting more sophisticated.
While it is not an arms race, the build-up is being driven by events in the South China Sea, long-standing squabbles between neighbors and a desire to modernize, analysts say.
Piracy, illegal fishing, smuggling, terrorism and disaster relief also play their parts, along with keeping the influential military happy in places such as Thailand and Indonesia.
There is a "general sense of strategic uncertainty in the region" given China's rise and doubts about the US' ability to sustain a military presence in Asia, said Ian Storey, a senior fellow at the Institute of Southeast Asian Studies.
"If the Chinese did attack the Vietnamese, at least the Vietnamese could inflict some serious damage," Storey said.
SIPRI says Indonesia, Vietnam, Cambodia and Thailand took the lead in boosting their defense budgets by between 66 and 82 percent from 2002 to last year.
However, the region's biggest spender, with the best-equipped military, is Singapore.
The wealthy city-state sits on the Strait of Malacca that links the Pacific and Indian oceans. A teeming shipping route, the strait is also a narrow "choke point" with huge strategic implications.
At US$9.66 billion, Singapore's defense budget for last year dwarfed Thailand's US$5.52 billion, Indonesia's US$5.42 billion, Malaysia's US$4.54 billion and Vietnam's US$2.66 billion, IISS says.
Official data on spending — how much goes to boots, bullets and salaries and how much to advanced hardware — is often opaque.
The defense spending figures also may not tell the full story. Countries such as Vietnam and Indonesia have used credit arrangements in the past to fund arms imports that did not appear in the defense budget, analysts say.
With defense budgets in many Western nations under pressure, Asia is attractive for makers of weapons, communications gear and surveillance systems. Lockheed Martin and Boeing's defense division both expect the Asia-Pacific region to contribute about 40 percent of international revenues.
Vietnam got 97 percent of its major weapons from Russia between 2007 and last year, but is looking to diversify by talking to the Netherlands and the US, SIPRI says.
The Philippines, which relies on the US for 90 percent of its weapons, plans US$1.8 billion in upgrades over five years as it sees a growing threat from China over the South China Sea squabble.
Thailand, whose military has staged 18 successful or attempted coups since 1932, has built a patrol vessel designed by Britain's BAE Systems.
Singapore buys mostly from the US, France and Germany, but also has its own defense industry, centered on ST Engineering. The state-owned group supplies the Singapore Armed Forces and has many customers abroad.
"Most countries are either interested in or actively pursuing their own domestic arms industry," Storey said. "It's cheaper than buying from overseas, long-term they're looking at developing their own export markets."
Comments will be moderated. Keep comments relevant to the article. Remarks containing abusive and obscene language, personal attacks of any kind or promotion will be removed and the user banned. Final decision will be at the discretion of the Taipei Times.