Chavez warns voters chaos may follow if he loses poll
Never one to mince his words, President Hugo Chavez is warning of instability or even outright civil war in oil-rich Venezuela if he is not re-elected next month.
The dire warning from the populist treated for cancer over the past year is largely seen as a gambit to woo undecided voters ahead of the Oct. 7 vote. Chavez has been in power for nearly 14 years and is seeking another six.
He has warned repeatedly that if the opposition candidate Henrique Capriles wins, the new government would wipe away subsidized food, health care and housing programs that are the pillars of what Chavez calls his socialist revolution.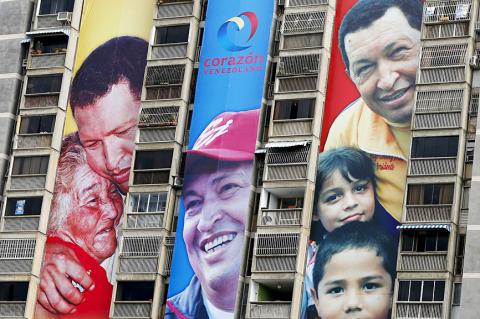 Banners of Venezuelan President Hugo Chavez hang from an apartment building in Caracas on Sept. 1.
Photo: Reuters
Capriles has a hidden neo-liberal agenda that "aims to take us back to a Venezuela that would not withstand this and would again enter a terrible scenario, a deep destabilization ... that would perhaps even take us close to civil war," Chavez said on Monday in a radio interview.
Luis Vicente Leon, head of the polling firm Datanalisis, said Chavez's remarks were more a political maneuver than a true reflection of the prospect for civil war.
"If Chavez is not in power, there will be chaos. If Chavez is not in power, there will be a civil war. If Chavez is not in power, there will be a coup," Leon said. "The president is putting a price on voting for Capriles: a turbulent country that is at war."
Most polls give Chavez a comlead of 10 to 20 percentage points over Capriles, although this cushion is thinner than it used to be.
However, these surveys also indicate that many Venezuelans are either undecided, plan to abstain or have decided who to vote for but say they might ultimately change their mind. Collectively these people are known as the ni-nis, meaning "neither this nor that."
"Chavez's intention is to keep people from voting for Capriles," a former governor of the populous northern state of Miranda who is supported by a coalition of opposition parties, said political analyst Mariana Bacalao, a professor at Central University.
Leon said ni-nis could amount to as much as 30 percent of the 19-million-strong electorate and that Chavez is trying to spook people who prefer peace over change.
Capriles is countering Chavez's doomsday warning by giving assurances that he would maintain Venezuela's social welfare safety net.
Analyst Carmen Beatriz Fernandez of consulting firm DataStrategia said Chavez is playing the fear card to hold on to his own supporters, a tactic he used in 2010 legislative elections.
"Now, he is doing it with greater vehemence because he knows his lead [in the polls] is not as big as it used to be," Fernandez said.
Comments will be moderated. Keep comments relevant to the article. Remarks containing abusive and obscene language, personal attacks of any kind or promotion will be removed and the user banned. Final decision will be at the discretion of the Taipei Times.