E Timor vote puts incumbent ahead
STILL IN THE PICTURE: General election promises, which have focused on tackling endemic poverty, could prove problematic amid widespread corruption
East Timor resistance hero Xanana Gusmao looked likely to remain prime minister after preliminary results yesterday showed his party took the largest number of votes in parliamentary elections.
His center-left National Congress for Timorese Reconstruction (CNRT) won 36.6 percent of the votes in Saturday's poll, an official tally showed. The electoral commission did not give a firm indication of how many seats in parliament each party had won in the poll, a key test for the young democracy and likely to determine whether UN peacekeepers can leave by the end of this year.
However, it remained almost certain that the CNRT would need to form a coalition, amid concerns that violence could be reignited in the energy-rich, but impoverished state if there is drawn-out wrangling to form a government. The main opposition left-wing Fretilin party was in second place with 29.8 percent, according to the preliminary count of 100 percent of the votes released by the electoral commission.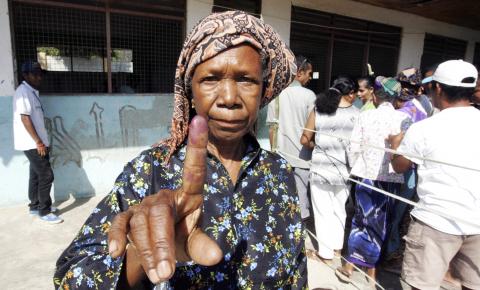 A woman shows her finger marked with ink after casting her ballot in a polling station during parliamentary elections in Dili, East Timor, on Saturday.
Photo: Reuters
The Democratic Party (PD), a member of the current ruling coalition, won 10.3 percent of the vote, according to the tally. Final results were not expected for several days, but the preliminary figures indicated that Gusmao's five-year term was likely to be extended. PD vice president Lurdes Bessa said talks about forming a coalition with the CNRT had already begun, adding that her party was likely to support 66-year-old Gusmao, a hero of East Timor's struggle against Indonesian occupation.
"Discussions started just last night, the contact has been initiated, but it's going to be very difficult to make a decision," she said, but added that "I think PD will end up supporting Xanana."
Commenting on how long negotiations could last, she added "it should happen pretty quickly, probably over the next couple of days."
The UN sees the polls — and their aftermath — as the last big test that will decide whether its remaining 1,300 peacekeepers and other security staff can withdraw as planned within six months.
Presidential polls that were held over two rounds in March and April passed off peacefully and there has been no major violence linked to the parliamentary polls.
In the last legislative elections in 2007, Fretilin won 21 of the total 65 seats, or 29 percent, while the CNRT won 18 seats, or 24 percent, but the CNRT won out in the post-election horse-trading to lead a coalition government with three smaller parties.
Wrangling over a coalition generated weeks of tensions after the 2007 elections.
Following the end of Portuguese rule in 1975, East Timor was occupied by Indonesia for 24 years. Some 183,000 people died from fighting, disease and starvation before the half-island state voted for independence in 1999.
The country has offshore fields of oil and natural gas and its Petroleum Fund has swelled to US$10 billion, but corruption is endemic.
Half of East Timor's 1.1 million people are officially classified as living in poverty, posing the main challenge for the future government.
"The biggest risk is poverty," East Timorese President Tamar Matan Ruak, who has backed the CNRT, said on Saturday after casting his vote. He beat Nobel laureate Jose Ramos-Horta in the recent presidential polls.
CNRT campaigned on a platform of longer-term investment on major infrastructure projects such as roads, electricity and water.
Fretilin, which is synonymous with the pro-independence struggle, pledged to spend oil revenues to lift income and education levels.
The polls are a test of whether East Timor, which celebrated a decade of formal independence in May, is ready to take on its own security.
A 450-strong International Stabilisation Force — made up of troops from New Zealand and Australia — is also awaiting the outcome of the poll before finalizing a pullout.
The UN Integrated Mission in East Timor — with a total current military, police and civilian force of about 3,000 — was deployed in 2006 with a mandate to restore security after a political crisis in which dozens were killed and tens of thousands displaced.
Comments will be moderated. Keep comments relevant to the article. Remarks containing abusive and obscene language, personal attacks of any kind or promotion will be removed and the user banned. Final decision will be at the discretion of the Taipei Times.