Australia seeks to sink South Korea whale hunt plan
South Korea on Wednesday proposed resuming whaling for scientific research, angering other Asian countries and conservationists who said the practice would skirt a global ban on whale hunting.
Australian Prime Minister Julia Gillard said she would fight the proposal, which was made at a meeting of the International Whaling Commission (IWC) in Panama City.
Critics said the move to pursue whaling in domestic waters was modeled on Japan's introduction of scientific whaling after the IWC imposed a 1986 moratorium on commercial whaling.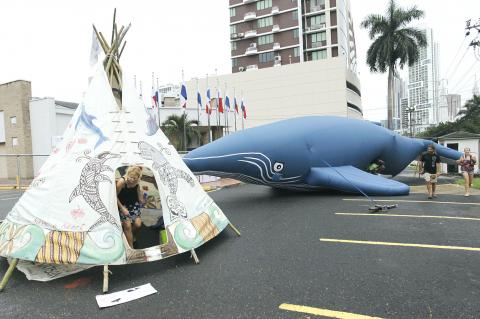 Protesters demonstrate next to an inflatable whale and a teepee decorated with painted whales and dolphins outside the building where the International Whaling Commission is meeting this week in Panama City, Panama, on Wednesday.
Photo: Reuters
Japan says it has a right to monitor the whales' impact on its fishing industry. South Korea says whaling is a longstanding cultural tradition.
Anti-whaling activists regularly harass Japanese vessels engaging in their annual whale hunt in the Southern Ocean off Australia and Antarctica, with the two sides sometimes clashing violently. At least one activist boat has sunk in recent years.
In Seoul, a government official said South Korea abided by international regulations and it would be up to the IWC to assess its proposal.
"If it says it is not adequate in their assessment of the legitimacy of scientific research, we'll make further preparations," an official at the South Korean Food, Agriculture, Forestry and Fisheries Ministry said.
South Korea said its fishermen were complaining that growing whale populations were depleting fishing stocks, an assertion that the World Wildlife Fund said had no scientific basis.
Environmental activists dismiss the term scientific whaling as a thinly veiled ruse to conduct commercial whaling.
The minke whales that South Korea proposes hunting are considered endangered, the World Wildlife Fund said in a statement.
Former Australian environment minister Ian Campbell, now on the board of the anti-whaling activist group Sea Shepherd, said the organization would "have to get organized to go out to the oceans and save the whales off South Korea."
Australia has long opposed Japanese whaling and Gillard said it would lodge a diplomatic protest against South Korea's move.
"We will make our voices heard today," she told reporters. "Our ambassador will speak to counterparts in South Korea at the highest levels of the South Korea government and indicate Australia's opposition to this decision."
Australia has filed a complaint against Japan at the International Court of Justice in The Hague to stop scientific whaling. A decision is expected next year or later.
New Zealand Minister of Foreign Affairs Murray McCully said the announcement was a setback to global conservation efforts as whales in its waters were already targeted by Japan.
"The portrayal of this initiative as a 'scientific' program will have no more credibility than the so-called scientific program conducted by Japan, which has long been recognized as commercial whaling in drag," he said in a statement.
Many Koreans view whale meat as a delicacy. Murals about 5,000 years old depicting whaling have been excavated around Ulsan, center of the whaling industry on the southeastern coast since the late 19th century.
Officials say that before South Korea joined the moratorium in 1986, its average annual catch was 600 whales, most of which was consumed. Whaling is now subject to prosecution and punishable by a jail or fines, but meat is available from mostly minke that get caught in fishing nets "by accident" or wash ashore.
Comments will be moderated. Keep comments relevant to the article. Remarks containing abusive and obscene language, personal attacks of any kind or promotion will be removed and the user banned. Final decision will be at the discretion of the Taipei Times.