FEATURE: Going 'au naturel' is the business in South Africa
From naked computer technicians to a concert where the audience — and the musicians — are all in the buff, South Africans are embracing whipping their kit off two decades after the fall of apartheid's stuffy rule.
Membership of the South African Naturist Federation (SANFED) is growing briskly, from 130 people in 2009 to about 8,000 today, and attitudes are relaxed enough for an all-naked business to draw bookings.
"Twenty years ago nudity was very much a taboo and people didn't really speak about it, whereas nowadays times have changed," SANFED chairman Carrington Laughton said.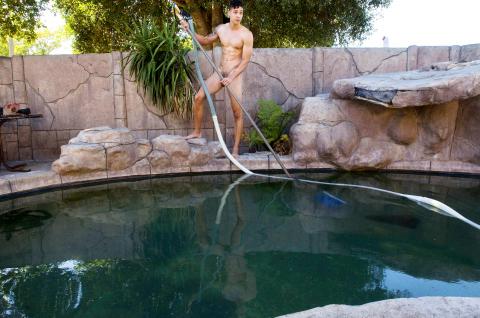 A naked employee poses while cleaning a pool in Cape Town, South Africa, on April 2 at the house of Jean-Paul Reid, a resident who in January started a company whose chief hiring policy is a willingness to work in the nude, or mostly so.
Photo: AFP
Public nudity in South Africa is not legal, despite a decades-old blind eye on certain beaches and at certain resorts, but attitudes are now more accepting since the once-isolated nation opened up after democracy in 1994.
"The general approach that the previous political regime had was a very conservative one, it was a very, very conservative bunch of people running the country and as a result, certain things were not allowed, and with the changes that have happened, obviously all of that nonsense has fallen away and that which hasn't fallen away completely, has very much taken a back seat," Laughton said.
About a quarter of SANFED's registered members are black, figures Laughton would like to grow, and up to 60 percent are male. Most white members are Afrikaners.
Prompted by the fast-growing numbers, Briton Mark Taylor, who with his wife has a naturist hotel in Greece and a naked sailing business, opened a dedicated family resort, Vasnat, near Cape Town in December last year.
Summer bookings were overwhelmingly international — 79 percent Europeans and 21 percent local — but South Africans are warming to the idea, he said.
"I was extremely surprised at the local interest," said Taylor, who said a Sunday concert even saw the non-naturist band strip off in the second set.
Equating sex with no clothes is the biggest misconception that the lifestyle faces, he added.
"People think we're all here having sex," said Taylor, even though public amorous shows usually lead to an immediate booting-out. "And that is so far away from the truth — there is no sexual vibe about it, it's not sexual, it's not erotic, it's just people enjoying being in the sun without their clothes on."
Also seeing gain in a "less is more" approach, Cape Town resident Jean-Paul Reid in January started a company whose chef hiring policy is a willingness to work in the nude, or mostly so.
The 29-year-old has signed up more than 75 part-timers with diverse services on his au naturel books — from a computer technician to a law student — after failing to find work in his field, accounting.
Natural Co averages two bookings a day for services that range from body shots at hen parties to cleaners and plumbers that cost about 400 rand (US$51).
"I would say nine out of 10 is naked and one out of 10 is semi-naked," said Reid, who takes a 20 percent commission from the jobs.
The service's most popular staffer is Cape Town 20-year-old personal trainer Michael Levin (not his real name), who says the concept has the potential to bring in good money.
"You're nervous because you don't know who you are going to or meeting for the first time," he said, adding that being comfortable naked was key.
"I wouldn't spend 300 or, what, 500 rand on someone to stand there nude or to clean for, what, half an hour, an hour. I wouldn't do that, but really, I actually think it's quite stupid, but it's interesting though," he said.
Soliciting of staff for sexual services is banned, as is the unblocking of toilets and drains.
"I make it very clear — no sex whatsoever," Reid said.
The majority of bookings are in South Africa's biggest cities of Johannesburg and Cape Town, and there are hopes to expand the skills base.
"For me, I need to diversify, so I want to offer everything possible naked," Reid said. "Not a school teacher, that's the only thing. You've got to draw the boundary somewhere."
Comments will be moderated. Keep comments relevant to the article. Remarks containing abusive and obscene language, personal attacks of any kind or promotion will be removed and the user banned. Final decision will be at the discretion of the Taipei Times.