Manning had mental issues, defense argues
Bradley Manning struggled with gender issues and emotional problems while deployed in Iraq, his lawyers said on Saturday, as the US soldier accused of a massive intelligence breach spent his 24th birthday in court.
In cross-examination of US Army investigators and one of Manning's former superior officers, the defense team sought to establish that he was suffering from mental health problems and that his commanders failed to take action or revoke his security clearance.
Manning is accused of downloading 260,000 US diplomatic cables, videos of US air strikes and US military reports from Afghanistan and Iraq while serving as a low-ranking intelligence analyst in Iraq and providing them to WikiLeaks.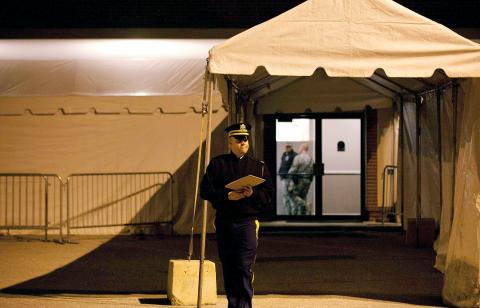 An Army officer leaves after the second day of Private Bradley Manning's Article 32 hearing on Saturday in Fort Meade, Maryland.
Photo: AFP
Dressed in a green camouflage uniform of the 10th Mountain Divison and wearing black-rimmed glasses, Manning listened impassively at the defense table as his lawyers brought up his gender struggles and homosexuality.
Manning served in Iraq under the US military's ban on openly gay troops known as: "Don't ask, don't tell," which was repealed earlier this year.
Troy Bettencourt, a former US Army computer expert now at the US Treasury Department, said that investigators had come across evidence that Manning created an online alter ego called "Breanna Manning."
Bettencourt also pointed to a series of incidents while Manning was in Iraq between November 2009 and his arrest in May last year, including an assault on a superior, turning over a table, damaging a computer and another occasion in which he "curled up in a ball."
Asked if Manning's leadership "failed him," Bettencourt said in hindsight that could be the case.
"I would like to think that if I was in the chain of command, I would have done things differently," he said.
Major Matthew Kemkes, a defense attorney, asked US Army Special Agent Toni Graham whether she had come across "any information that discussed gender identity disorder" during a search of Manning's possessions.
"I do remember several things on homosexuality and gender disorder," said Graham, who participated in the probe leading to Manning's arrest.
However, she said she was "not focused on that particular aspect of his life."
When US Army prosecutors objected to the line of questioning, Kemkes said it was relevant because it goes to Manning's "state of mind."
"If the accused is facing gender identity disorder and is maintaining medical articles and pamphlets in his [housing unit], then that's relevant to his state of mind," he said.
Manning's civilian attorney, David Coombs, brought up e-mails Manning sent in April last year to the senior non-commissioned -officer in his unit in Iraq, in which he included a picture of himself dressed as a woman and said that his troubles were "impacting his ability to do his job."
The defense also sought to establish that much of the material published by WikiLeaks was not of a top secret nature and was readily available to hundreds of -thousands of government employees on SIPRNet, the secret Internet protocol router network from which Manning allegedly downloaded classified material.
"Did you think these diplomatic cables were something you had to hold on to like the nuclear launch codes?" Coombs asked Captain Steven Lim, Manning's former -officer in charge in Iraq.
"No," Lim replied. "If it's top secret, it will not be on SIPRNet."
Manning is facing charges that could potentially send him to prison for the rest of his life and the pre-trial hearing on this sprawling US military base is being held to decide whether he should face a court-martial.
Comments will be moderated. Keep comments relevant to the article. Remarks containing abusive and obscene language, personal attacks of any kind or promotion will be removed and the user banned. Final decision will be at the discretion of the Taipei Times.