Courts 'weakest link' in Jakarta's terrorism fight
SLIPPERY: A radical cleric who was once convicted of conspiracy in the Bali bombings has repeatedly avoided guilty verdicts or won reduced prison terms
Indonesia's legal system is the "weakest link" in the nation's fight against terrorism, analysts said after a court slashed the jail term of the country's slipperiest terror convict.
A district court in June sentenced radical cleric Abu Bakar Bashir to 15 years in prison for deliberately inciting terrorism and funding a new terror cell allegedly planning deadly attacks on Westerners and politicians.
The Jakarta High Court disclosed on Wednesday it had overturned the conviction one week earlier and found Bashir, 73, guilty of a similar but less serious offense, cutting his sentence to nine years.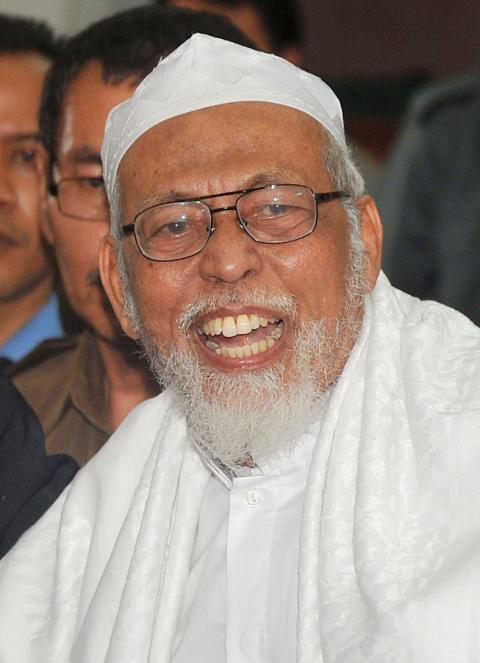 Indonesian cleric Abu Bakar Bashir talks to supporters inside a court after he was convicted in Jakarta on terrorism charges on June 16.
Photo: AFP
Bashir was once convicted of conspiracy in the 2002 Bali bombings, which killed 202 people, but was cleared on appeal, and has several times avoided guilty verdicts or won slap-on-the-wrist punishments or sentence reductions.
"Our legal system is the weakest link in this fight," prominent terror analyst Noor Huda Ismail said.
"Police have done quite a good job in arresting suspects and finding terrorists in raids, but once it gets to the courts, there are a lot of problems prosecuting a case," he said.
Indonesia's anti-terror police unit, Detachment 88, has successfully weakened large extremist networks, killing some of Southeast Asia's most notorious terrorists in bloody raids.
However, Bashir has been particularly difficult to pin down because of legal rules, such as a ban on phone-tapped conversations as evidence in terror trials — although a new law will give authorities more power to bug communications.
"The prosecutors had phone conversations in which Bashir admitted he had funded the terror cell, but it couldn't be used as evidence. So I think this new law will make a big difference, as long as it's not abused," Ismail said.
Some key witnesses in Bashir's case refused to testify in court, and giving evidence via video conference made effective examination difficult, Ismail said.
Finding evidence against Bashir was challenging as the cleric allegedly only incited acts of terror and did not get involved in actual operations, political analyst at the University of Indonesia Andi Widjajanto said.
"Under terror laws, you either have to be caught red-handed, or have at least three witnesses give evidence. There must also be either audio, video or documented evidence," he said.
"That's why the court for the third time has failed to prove Bashir is directly involved in terrorism," he said.
The high court admitted that it had showed clemency to the elderly cleric.
"We also reduced the sentence as an act of humanity for this old man. The judges consider the nine-year sentence as long enough," court spokesman Ahmad Sobari said.
Nonetheless, Greg Fealy, an Indonesian terror specialist at the Australian national University, said that many convicted terrorists had received lengthy sentences in recent years.
"In most cases, the convicted terrorist has got around six to 10 years in prison, and that's been very consistent. In Bashir's case, there was strong evidence against him, so 15 years seemed fair and proportional," Fealy said.
However, after criticism of the video evidence, he said: "We knew there would be a problem and that Bashir would appeal."
Comments will be moderated. Keep comments relevant to the article. Remarks containing abusive and obscene language, personal attacks of any kind or promotion will be removed and the user banned. Final decision will be at the discretion of the Taipei Times.