Mudslides, rain leave 80 dead in Central America
The death toll from rains and mudslides across Central America rose on Sunday to at least 80, with El Salvador suffering the most fatalities at 32 and poor weather due to continue, officials said.
International highways have been washed out, villages isolated and thousands of families have lost homes and crops in a region that the UN has classified as one of the most affected by climate change.
Hardest hit were El Salvador, with at least 32 dead after five days of intense rains unleashed by a stubbornly persistent tropical depression, and Guatemala, where 28 people were reported dead and two others were missing.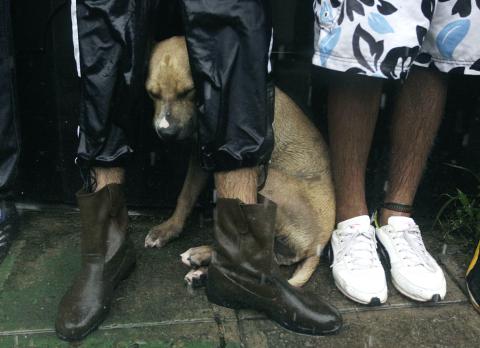 A dog takes cover from the rain in Ciudad Arce, El Salvador, on Sunday.
Photo: Reuters
Salvadorean President Mauricio Funes said in a message to the nation that El Salvador was "really being put to the test," adding that more than 20,000 people had been evacuated and entire communities had been cut off because of impassable roads.
The government launched an appeal for international humanitarian aid, with the rains forecast to continue through yesterday. Spain responded by sending 20 tonnes of aid materials, including personal hygiene kits and tents.
In Ciudad Arce, 40km west of the capital, a landslide swept away five houses, killing at least nine people, officials said.
Jorge Melendez, the head of the country's civil protection agency, said most of the deaths in El Salvador were caused by mudslides.
Meanwhile, Guatemalan President Alvaro Colom declared a "state of calamity" after the death toll there reached 28 after five days of heavy rains.
Forecasters said rains generated by a low pressure system would not let up for at least another day.
In Honduras, authorities raised the death toll to 12 after a night of unrelenting rains that turned creek beds into raging torrents in the populous mountain valley that is home to the capital Tegucigalpa.
Honduran President Porfirio Lobo declared a state of emergency in the southern part of the country and dispatched medical teams to the worst-affected areas.
In Nicaragua, the civil defense agency ordered the evacuation of the slopes of the Casita volcano, which experienced deadly landslides in 1998 after the passage of Hurricane Mitch.
Nicaraguan first lady Rosario Murillo, who is also the government spokeswoman, said eight people have been killed in the country and more than 25,000 affected by the rains.
Comments will be moderated. Keep comments relevant to the article. Remarks containing abusive and obscene language, personal attacks of any kind or promotion will be removed and the user banned. Final decision will be at the discretion of the Taipei Times.