Cuban Ladies in White leader dies at 63
Laura Pollan, who helped found the dissident group Ladies in White after her husband was jailed in a 2003 crackdown on Cuban government opponents, died on Friday in a Havana hospital at the age of 63, her family and fellow dissidents said.
The pugnacious Pollan was one of Cuba's leading opposition voices and deeply involved in promoting change in Cuba until she developed a pulmonary illness and went into Hospital on Oct. 7.
She had been on a respirator in the intensive care ward of Calixto Garcia hospital ever since and died of cardiac arrest, said Berta Soler, her longtime co-leader of the Ladies in White.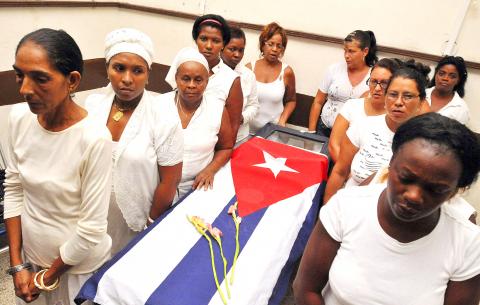 Cuban women keep vigil yesterday in Havana, Cuba, over the coffin containing the body of Laura Pollan, one of the founders of the dissident group Ladies in White, who died on Friday at the age of 63 after suffering a cardiac arrest.
PHOTO: EPA
Her husband Hector Maseda said at the hospital that a medical team had tried for an hour to revive her without success.
"I asked to see her and went to see her body. I was there with her for a while, alone," the visibly shaken Maseda said.
Elizardo Sanchez, head of the independent Cuban Commission of Human Rights, said the loss of Pollan was a big one for opponents of the Cuban government.
"It's really bad news for the human rights and pro-democracy movement. It's an irreparable loss. We'll see with time if others step forward to take her place," he said.
After 75 dissidents, including Maseda, were imprisoned in a March 2003 crackdown known as Havana's Black Spring, the former school teacher helped found the Ladies in White with family members of the other prisoners and began staging silent marches every Sunday in Havana to press for their release.
Dressed in white and each carrying a single white flower, they walked silently along a main Havana avenue after attending services at the Santa Rita Catholic Church in the capital's leafy Miramar neighborhood.
Public protests were unheard of at the time and still rare today. The government tried to stop them by sending out harassing mobs in what are known in Cuba as "acts of repudiation," but allowed them to continue after intercession by the church.
All 75 people imprisoned in the Black Spring crackdown, who received sentences ranging from six to 28 years, have been released, most of them following a deal between the church and Cuban President Raul Castro last year. One of the last to be freed was Maseda, who was serving a 20-year sentence.
The Ladies in White have continued their Sunday marches, saying there are still political -prisoners in Cuba, and this summer launched a second chapter in the eastern city of Santiago de Cuba, which has met stiff government resistance.
Cuba considers dissidents to be mercenaries working for its longtime enemy the US, and so far had said nothing about Pollan's death.
Cuban state media called Pollan and her group "Ladies in Green," referring to the color of dollars they said she received from Washington. She said they accepted aid from whoever would give it, but insisted they were an independent movement.
"We continue being defenders of human rights. We are not politicians, we want freedom for the country, democracy," she said in an interview last month.
Maseda said an autopsy would be conducted, then her body would be cremated and there would be a wake in their home in Central Havana.
Her ashes would be spread in a field of flowers, as she had once requested, he said.
All would be private, he said, because "we don't want the wake to become an act of propaganda."
Some of her supporters have complained Pollan received poor medical treatment in the hospital, but Sanchez said he believed she had been treated professionally by doctors and nurses.
He said she may have been a victim of shortages of equipment and medicine in Cuba's medical system, which is much touted for providing free healthcare to all.
Cuba was heavily criticized last year when an imprisoned dissident died after a long hunger strike.
The international condemnation was believed to be a factor in Castro's decision to release the dissidents.
Comments will be moderated. Keep comments relevant to the article. Remarks containing abusive and obscene language, personal attacks of any kind or promotion will be removed and the user banned. Final decision will be at the discretion of the Taipei Times.