Three miners shot dead at world's biggest gold mine
Gunmen shot and killed three miners in the latest attack near the world's largest gold mine in eastern Indonesia, officials said yesterday. Attackers also fired on a patrol car sent to investigate, wounding a soldier and a civilian guard.
Four Indonesian miners who worked for the US company Freeport were hit by unknown gunmen as their car traveled along a road to the mining complex on Friday in restive Papua Province, local deputy police chief Major Mada Indra Laksanta said.
The attackers also set the car ablaze, he said.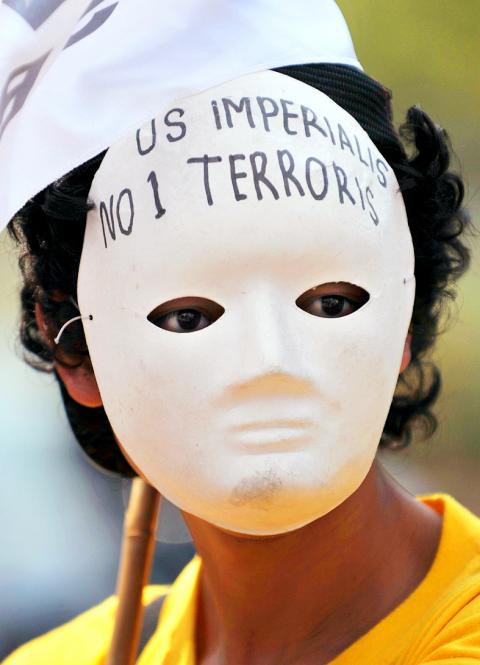 A protester attends an anti-US demonstration in front of the US embassy in Jakarta, Indonesia, yesterday.
Photo: AFP
Hours later, gunshots were fired at a patrol car trying to approach the burned car. A soldier and a civilian guard were wounded.
Police found the bodies of three miners near their car, they are still searching for the fourth miner, who is unaccounted for.
Friday's shooting came less than a week after Indonesian security forces fired on striking workers at the one of world's largest gold and copper mines, killing one and injuring more than a dozen other people.
However, police declined to link Friday's shooting with the workers' strike that started on Sept. 15.
The strikers are demanding that their pay, which ranges from US$2.10 to US$3.50 per hour, be increased to between US$17.50 and US$43 per hour.
"We do not want to speculate before the investigation is complete," Laksanta said, adding that police and soldiers are searching for the attackers.
Freeport's Indonesian spokesman Ramdani Sirait said that the company was deeply saddened by the loss of lives of its workers in recent incidents and continues to cooperate with the police investigation.
The attack was the latest in a string of ambushes on the road to the mine that have claimed eight lives since July 2009, including an Australian technician.
Early last year, a convoy from the mine was ambushed and an American, four policemen and two civilians wounded.
The mine, run by a subsidiary of the US-based Freeport-McMoRan Copper & Gold Inc, has been repeatedly targeted with arson, roadside bombs and blockades since production began in the impoverished province of Papua in the 1970s.
The region also has a low-level insurgency that seeks independence from the Indonesian government.
Comments will be moderated. Keep comments relevant to the article. Remarks containing abusive and obscene language, personal attacks of any kind or promotion will be removed and the user banned. Final decision will be at the discretion of the Taipei Times.