FEATURE: Indian wives fast, luxuriously, for husbands
CONTROVERSIAL CUSTOM: Some feminists say that Karva Chauth is a relic of the patriarchal system, while others defend it, and recently men have also begun to fast
Today, Kanika Syal will wake up before dawn to begin a fast at sunrise, and not eat or drink until she sees the moon at night — all in the hope her husband will have a long life.
Karva Chauth is a centuries-old tradition observed annually in north India, where women dress up and fast for the day to pray for their spouse's good health and success.
"Since a very long time ago, we have been looking at our mothers celebrate," says the 25-year-old Syal, who is making her Karva Chauth debut as a newlywed. "It is our turn now."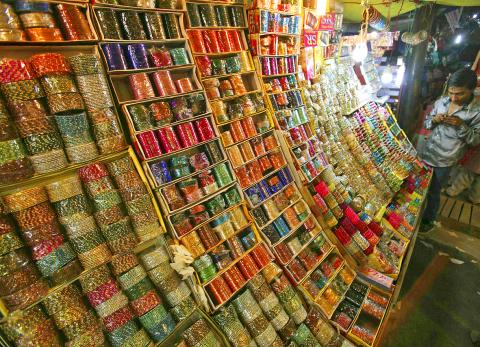 A vendor stands next to his stall of bangles at a market ahead of the Karva Chauth festival in Jammu, India, on Wednesday.
Photo: Reuters
However, it is different for the teacher-turned-homemaker, who, as a member of India's rapidly growing middle class, will be doing a lot more than her mother ever did for the festival.
While it is customary for women to apply henna on their hands, buy clothes and expect gifts from relatives, the new generation of fast-keepers, with money to spare, is exploring a range of pampering options. They are spoiled for choice.
Syal will indulge in a 5,000 rupee (US$102) diamond facial and body spa treatment to make sure she looks her best.
Also on the must-have list for the urban elite are Botox, laser hair reduction and chemical peel treatments at spas and beauty parlors offering Karva Chauth packages.
"There is a 30 to 40 percent increase in the number of patients who look for cosmetic procedures around this time," says Amit Bangia, head of the department of dermatology at the Asian Institute of Medical Sciences.
The origins of the festival are shrouded in mystery, but one tale tells of a queen being duped by her brothers into breaking her fast before moonrise, leading to the king's immediate death. She is given a second chance, fasts faithfully — and he returns to life.
A booming economy and wave of consumerism have given India's middle-class more spending power, and malls and luxury stores are wooing women with items such as Swarovski crystal-studded channis, the sieve traditionally used to look at the moon before breaking the day's fast.
For the tech-savvy, jewelry firm Tanishq has introduced a Karva Chauth smartphone app to complement its festival line-up. The app converts the phone into a sieve for the night.
Even mehendi-wallas, the artists who apply henna, make a killing with their custom-made designs. Some charge 5,100 rupees to do both hands.
However, not everyone indulges.Shalini Sood Bhaduri, a former marketing professional, finds the festival "absolutely ridiculous" and "off-putting."
"I really don't believe that by observing the fast for one day, it is going to add to his life," she said.
Some feminists, however, believe it may be too simplistic to dismiss Karva Chauth as a patriarchal custom.
Madhu Kishwar, a senior fellow at the Center for the Study of Developing Societies in Delhi, sees it as an interesting "game-play between men and women."
"There are so many rituals that women seem to have devised to raise the testosterone level of men ... that is when men are more likely to be indulgent partners," she said.
Recently, Bollywood hits such as Dilwale Dulhania Le Jayenge — "Large-Hearted Person will Take the Bride Away," starring Shah Rukh Khan — have also made the festival more even-handed, with the hero fasting for his beloved.
Rohan Vasudeva, a Delhi-based businessman, observed the fast for his fiancee last year, when they were engaged.
This time, Vasudeva will leave the fasting to his wife, but he is still counting down to today.
"I am looking forward to taking her out to dinner," he said.
Comments will be moderated. Keep comments relevant to the article. Remarks containing abusive and obscene language, personal attacks of any kind or promotion will be removed and the user banned. Final decision will be at the discretion of the Taipei Times.