Testimony to focus on scene in Jackson's bedroom
US Prosecutors were calling a key witness yesterday in an attempt to show jurors that Michael Jackson's doctor delayed calling authorities and was intent on concealing indications he had been giving the singer doses of a surgical anesthetic.
As the involuntary manslaughter trial of Conrad Murray entered its third day, testimony kept jurors focused on events in Jackson's bedroom during the frantic moments when efforts were made to revive the unresponsive pop superstar.
The panel has already gotten a glimpse into the entertainer's inner sanctum through photos and testimony, but yesterday was to hear from the first bodyguard to reach the room after Murray summoned for help.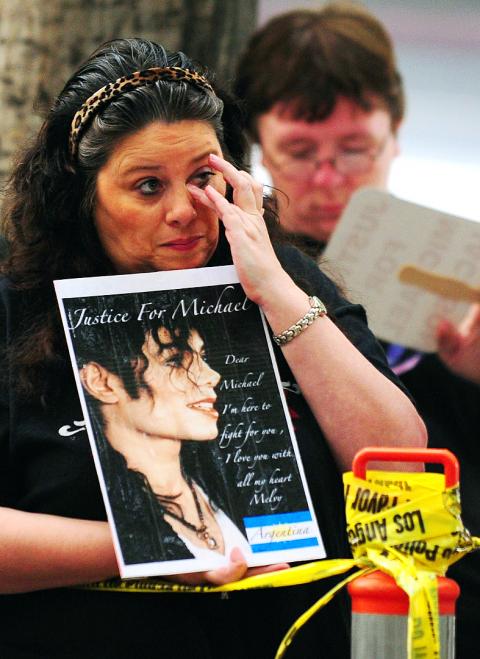 A woman reacts outside the courthouse in Los Angeles ahead of the second day of the trial of Michael Jackson's doctor on Wednesday.
PHOTO: AFP
During a preliminary hearing earlier this year, Alberto Alvarez said Murray ordered him to stash away vials of medicine and an intravenous therapy bag -before calling 911. Jackson, his eyes open and mouth open, appeared to be dead, he said.
The bodyguard's testimony is crucial to prosecutors' contentions that Murray delayed calling 911 and was intent on covering up evidence that he had given Jackson propofol in his bedroom, a far cozier environment than the surgical settings where it is normally administered.
Alvarez's testimony will likely be challenged by Murray's defense attorneys, who on Wednesday questioned Jackson's head of security and the singer's personal assistant about why they did not reveal certain details about the day Jackson died to police for at least two months. Defense lawyer Ed Chernoff asked Faheem Muhammad and Michael Amir Williams whether they conferred with Alvarez before their interviews with detectives.
Williams, who was Jackson's personal assistant, said his interview with detectives had been delayed. He testified on Wednesday that he received an urgent phone call from Murray on the day of Jackson's death, but was not told to call 911. He called Muhammad, who then dispatched Alvarez to Jackson's bedroom on the second floor of the singer's rented mansion in the ritzy Holmby Hills neighborhood of Los Angeles.
The room was off-limits to Jackson's staff, and Muhammad paused before racing up the stairs after reaching the mansion just before paramedics arrived.
He described a heart-wrenching scene. By then, he said, Jackson had been removed from his bed and was on the floor, where Murray, sweaty and frantic, was performing CPR.
Alvarez was pacing nervously, Muhammad told the jury. When he saw Jackson up close, he understood why.
"What did you observe about his face?" prosecutor David Walgren asked.
"That his eyes were open," -Muhammad said. "That his mouth was slightly open."
"Did he appear to be dead?" Walgren asked.
"Yes," Muhammad said.
The bodyguard then noticed that Jackson's children, Prince and Paris, had gathered by the doorway.
Comments will be moderated. Keep comments relevant to the article. Remarks containing abusive and obscene language, personal attacks of any kind or promotion will be removed and the user banned. Final decision will be at the discretion of the Taipei Times.