FEATURE: Australian toddlers in training to be chefs
Amid the din of a dozen kids beating batter, squeezing lemons and bustling about a commercial kitchen, Luca Lawandos expertly cracks an egg and separates the yolk from the white using the shell.
Standard fare for a cooking class perhaps, until you consider that Luca is just three years old.
The dark-haired tot is a regular at the Saturday morning cooking classes in Sydney's inner west, learning to make sweet and savory dishes with other like-minded children at the Little Spoons cookery school.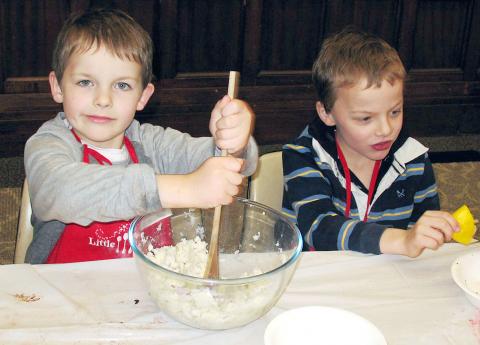 Two children learn to cook at the Little Spoons cookery school in Sydney, Australia on -Sept. 10.
Photo: AFP
"Luca loves cooking," explains his mum Madeline Lawandos. "He just showed an interest in cooking so we decided to come in and join the classes."
For Lawandos, the classes provide a social environment in which her son can practice his fine motor skills — stirring, rolling, making shapes — at the same time as learning about measurement, quantity and hygiene.
"It's not just the food and eating it; it's good life skills for the future," she says.
The brainchild of mother-of-two Lisa Campbell, Little Spoons is teaching scores of Sydney children how to prepare dishes they can replicate at home, such as beef bourguignon pies, apple galette pastries and moon cakes.
Campbell began the business in 2009, in time to ride the explosion of interest in food generated by the popularity of reality television shows concentrating on cooking, such as the hit MasterChef Australia.
What began as a small, home-grown enterprise quickly developed into a thriving business which -employs 15 mostly part-time staff and which has a full roster of classes for toddlers through to teenagers.
Campbell, who quit a corporate information technology job to start the business she hoped would combine her passion for food with more family-friendly work hours, says the idea is for kids to learn healthy food habits in a fun setting.
"We never use anything with salt in our cooking. We cut out a lot of the butter and the sugar so it's healthier for the kids to eat," she says.
Older children can attempt trickier dishes such as Vietnamese squid stuffed with seafood; seared kangaroo skewers with herb and lemon dressing; chocolate ganache, lavender cream and raspberry tarts or snapper en papillote.
Toddlers are more likely to tackle chicken schnitzel or steamed pork buns.
"There's nothing sharp on the toddler table," Campbell says. "And we do teach them to chop properly. I think the worst thing we've had is a couple of children have had grating injuries."
Sheridan Rogers, who has run cooking classes for children for a decade, says the rise of the celebrity chef culture and the popularity of MasterChef have resulted in a greater awareness of food and interest in cooking.
"There's a huge wave of interest," Rogers says.
"And yes, the children's tastes have become increasingly more sophisticated. They talk about plating the food and they want to increasingly do more exotic things. A lot of them have been eating sushi since they were little and their parents take them to restaurants and then, of course, there is the exposure on television," she says.
Rogers says with primary and secondary schools increasingly abandoning home economics classes and more working mothers unable to prepare dinner with their children alongside them, cooking classes for children have found a niche.
It's a far cry from when Rogers, who used to work for Australia's best-known cook Margaret Fulton, began writing about food for newspapers and had articles about gourmet items scoffed at by editors.
"The editor just howled at me: 'Who do you think would be interested in this?'" she says she was told after sending through an article about ricotta and mascarpone cheeses. "So it was hard to make headway."
However, Rogers, whose classes cater to children mostly aged eight to 12, says the recipes she teaches them are down-to-earth, with a typical menu including potato and leek soup, a pesto pasta chicken dish with grape tomatoes, and raspberry, coconut and white chocolate muffins.
"At the end of the day, kids are kids; they don't really want to eat highly styled meals — well, I don't think they do. They just want something yummy and delicious," she says. "I always have to include one thing with chocolate because they are always mad about chocolate."
Comments will be moderated. Keep comments relevant to the article. Remarks containing abusive and obscene language, personal attacks of any kind or promotion will be removed and the user banned. Final decision will be at the discretion of the Taipei Times.