Fresh killings as Yemen protests grow
'SORROW AND CONDEMNATION': The government said it would investigate Sunday's violence, in which 26 people were killed when security forces reportedly opened fire
Snipers and security forces yesterday killed six civilians as tens of thousands of anti-regime protesters thronged central Sana'a following deadly clashes there on Sunday that left 26 people dead.
Witnesses said snipers deployed on rooftops around Change Square, the epicenter of anti-regime protests in the Yemeni capital, killed three passersby, while security forces and regime supporters clashed with protesters a few kilometers away, killing three civilians and wounding dozens.
Early yesterday, thousands of protesters calling for the departure of Yemeni President Ali Abdullah Saleh's regime marched into the center of Sana'a where they joined tens of thousands who had camped there overnight.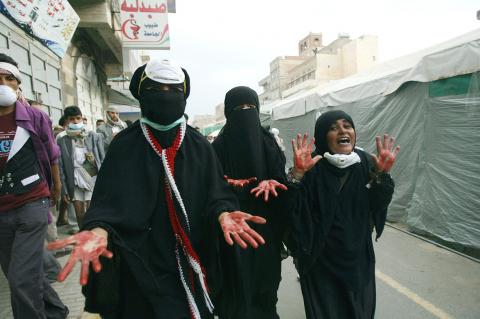 Yemeni women show the blood on their hands after helping wounded comrades in clashes with government security forces at an anti-regime demonstration outside Sana'a University in Sana'a, Yemen, on Sunday.
Photo: AFP
On their way, the protesters clashed briefly with security forces and Saleh supporters near the office of Saleh's son Ahmed, who heads the elite Republican Guard units, but no casualties were reported, witnesses said.
Yesterday's march followed a similar one on Sunday attended by tens of thousands, which ended in chaos when security forces and armed civilians opened fire, according to witnesses.
Heavy machine guns, water cannons and tear gas were also used, they added.
Medics reported 26 people killed and 500 wounded by live rounds, batons or after inhaling tear gas in Sunday's clashes.
Yemen's government yesterday expressed its "sorrow and condemnation" of Sunday's violence and promised an investigation.
"The government of Yemen expresses its sorrow and condemnation for all acts of violence and bloodshed as those happened yesterday in Sana'a," Yemeni Foreign Minister Abu Bakr al-Qurbi told the UN Human Rights Council in Geneva.
"The government will investigate and hold accountable all those who were in charge of these acts," he added.
"It is unfortunate that these events occurred at a time while some solutions for the political crisis started to appear," he said.
During their march on Sunday night, protesters drove out the security forces, who were replaced by troops of dissident General Ali Mohsen al-Ahmar's First Armored Brigade.
The troops immediately set up roadblocks to protect the demonstrators, who now occupy a 3km stretch of Sana'a, extending from Change Square towards the center, witnesses said.
"New tents were set up in the center of Sana'a," one witness said.
Youth groups also called for massive protests across the country yesterday, prompting security forces to deploy heavily in the flashpoint city of Taez, the second-largest city in Yemen.
The Organizing Committee for the Youth Revolt in Sana'a which insisted in a Sunday statement that its actions will remain "peaceful," urged Yemenis to "come out and gather" across the country "day and night" until the regime falls.
It also urged soldiers from the Republican Guard and the central security services to "refuse to obey orders given to them by members of Saleh's family to kill their own people."
The interior ministry had accused protesters of wounding four members of the security forces, throwing gasoline bombs at electricity generators and burning official vehicles.
Meanwhile, Oxfam said in a statement that one in every three Yemeni goes hungry every day because of the months-long political stalemate that has pushed the economy to the verge of collapse and the -government towards total paralysis.
"Widespread hunger and chronic malnutrition have taken hold in Yemen," the international charity said in a report on the country of 22 million.
Saleh, who is recovering in Saudi Arabia from wounds received in an explosion in Sana'a in June, last week authorized Yemeni Vice President Abdrabuh Mansur Hadi to negotiate a power transfer with the opposition.
However, the opposition has dismissed calls for dialogue before Saleh, in power since 1978, signs a Gulf-brokered deal that would see him hand power over to Hadi in return for amnesty from prosecution for himself and his family.
Comments will be moderated. Keep comments relevant to the article. Remarks containing abusive and obscene language, personal attacks of any kind or promotion will be removed and the user banned. Final decision will be at the discretion of the Taipei Times.