Climate change transforming Britain's farms as crops of tea and olives appear
British farmers are experimenting with crops such as olives and nectarines which have traditionally been imported from southern Europe, while the first British tea plantation has opened with a changing climate set to transform the nation's countryside.
Flowers will bloom early and crops will be harvested sooner as Britain marches toward what the government describes as a "wetter and warmer" UK.
Britain's first tea plantation has opened in Cornwall in southwest England, the country's warmest region and the center of much of the current crop experimentation.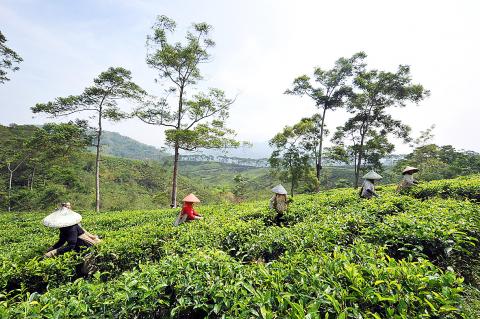 Indonesian workers pick tea leaves at a plantation in Cianjur, Indonesia, on July 6.
Photo: AFP
"We had an opportunity when temperatures in Cornwall turned warmer and we started a farm in 1999, but we had our first harvest in 2005 and our yield has improved every year," said Jonathan Jones, commercial director at the Tregothnan Estate.
Tregothnan now grows 22 varieties of tea and is expecting a record harvest in excess of 10 tonnes this year. The estate has also been experimenting with growing edible flowers.
Mark Diacono, a farmer in neighboring Devon, has been trying to grow a wide array of crops, including olives, pecans, Szechuan pepper and apricots, and he also lists a vineyard on what he calls his "climate change farm" on his Web site.
"I just made a list of all the foods I liked, knocked out all the things others grow perfectly well locally or are cheaply available. I researched and found out that some that had not been grown here before might be possible given new varieties and climate change ... so I planted," Diacono said.
David Leaver, professor emeritus and former principal of the Royal Agricultural College, said the potential for new crops in Britain will depend not only on the degree of global warming, but also on the extent to which plant breeders are able to develop new varieties able to withstand lower temperatures.
"Maize, for example, was not grown in this country, but is now it's increasingly grown, mainly because of plant breeder achievements in breeding earlier maturing varieties, rather than due to global warming. This may be achievable for other crops — so climate change is not the only factor affecting cropping patterns," Leaver said.
Robert Watson, chief scientist at the British Farming and Environment Ministry, said his department was closely monitoring the impact climate change was having on crops.
"There is no question that climate change will have significant effect on crops. Climate change might be beneficial for the UK, at least because we will have a larger growing period with shorter winters and earlier springs," Watson said. "By 2050, the impact will largely be positive for crop growers, but that will depend on where you are in the UK."
Watson cautioned, however, that climate change does also raise serious concerns for a country such as Britain that relies heavily on food imports.
"If we take the world as a whole, with an increase of two to three degrees the overall impact will be negative. We are 65 percent food sufficient and the rest, 35 percent, is imported, mostly from Europe," he said. "So far, the supplies have been secure, but the question is will the international markets be a secure food source, and at the same time, with the economic growth in China and India, will they push hard for increased food supply?"
Comments will be moderated. Keep comments relevant to the article. Remarks containing abusive and obscene language, personal attacks of any kind or promotion will be removed and the user banned. Final decision will be at the discretion of the Taipei Times.