Chinese fugitive allegedly involved with illegal gambling operation in Vancouver
One of China's most-wanted fugitives has alleged connections to organized crime, loan sharking and illegal gambling in Canada, a Canadian intelligence officer said on Monday.
Vancouver detective James Fisher told Lai Changxing's (賴昌星) detention hearing that a reliable source told him Lai was in charge of an illegal gaming operation out of a home in Richmond, British Columbia. His source also told him Lai was in partnership with loan shark Betty Yan (甄彤施), who was found murdered in April 2009. Yan had been found shot to death in a Richmond, British Columbia, industrial park.
The officer would not name his source.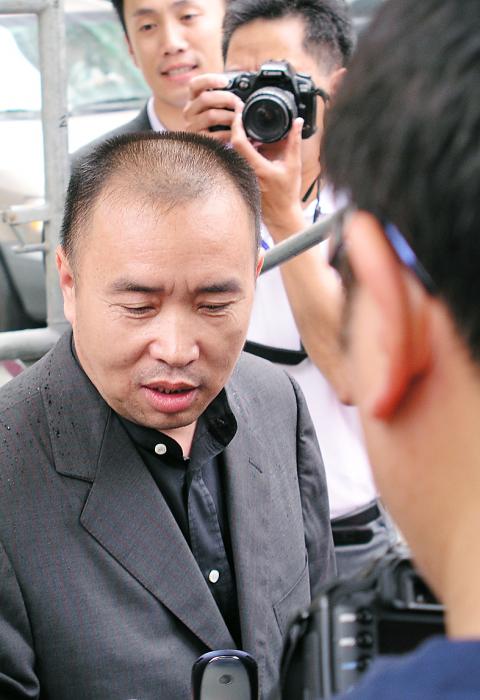 Lai Changxing speaks to reporters in Vancouver, Canada, on June 1, 2006.
Photo: AFP
Lai has been fighting deportation, arguing he could face torture or even death at the hands of the Chinese government.
Lai's lawyer, Darryl Larson, was surprised to hear the allegations and asked to adjourn Monday's hearing so he could talk to his client.
"I want to talk to Mr Lai about these allegations from an unnamed, long-term criminal, who apparently is a reliable testifier," Larson said.
Lai, who attended the hearing via video and phone link from jail, blurted out several times in Mandarin near the end of the officer's testimony that the claims weren't true.
Lai also complained through a translator that he had to remain handcuffed during the hearing.
"It's so unfair to me," he yelled down the phone line.
Lai has spent 12 years fighting his return to China, where he's accused of heading a network that smuggled billions of dollars worth of goods into China with the protection of corrupt officials.
His deportation order was suspended last week pending a court review scheduled for tomorrow.
Fisher said the organized crime group Lai had connections to provided false passports to people seeking to travel between China and Canada, or who wanted to leave Canada for other countries.
"The fact Mr Lai was associating with members of an organized crime group indicates there was a level of trust between them," Fisher said.
Fisher's testimony was the most the public has heard about Lai's alleged activities in Canada since his Canadian arrest in 1999.
Outside the hearing, Larson asked why the government brought forward the gambling and loan-sharking allegations now.
"[Lai] said it's not true," Larson said. "Why didn't they arrest him? Why didn't they charge him?"
His case has drawn the attention of the highest political circles in both Canada and China.
Canada's foreign minister was in China on Monday and denied that his visit to the country this week had anything to do with the Canadian federal government's push to deport Lai.
"I think most independent observers of the legal case will know that an elected official, let alone the minister, has no say in terms of timing of the return," Canadian Minister of Foreign Affairs John Baird told reporters on a conference call from China.
It took four years for the federal government to complete a pre-removal risk assessment report for Lai, which concluded he didn't face death or injury if returned to face trial in China.
Days after the report was issued earlier this month, Lai was to be deported. His lawyer asked the federal court to temporarily suspend the deportation order until a full hearing on his removal could be completed this week.
Baird conceded the extradition proceedings for the man considered one of China's most-wanted criminals came up in a conversation in Beijing.
"I did caution my Chinese counterpart that they shouldn't count on it being overly expeditious," he said.
Baird said he had no reason to distrust the assurances of the Chinese government when it says capital punishment will no longer be used for white-collar crimes.
"The one thing I was struck by in my discussion with the ambassador in Ottawa and my colleagues here is when it comes to white-collar fraudsters or when it comes to drug crime, the Chinese people take them very seriously just like the Canadian people," he said.
Larson said the comments from Baird underscore that Lai's case is all about politics instead of whether his client will be safe if he's returned.
Comments will be moderated. Keep comments relevant to the article. Remarks containing abusive and obscene language, personal attacks of any kind or promotion will be removed and the user banned. Final decision will be at the discretion of the Taipei Times.