Freed Vietnam dissident in US hopeful over protests
Fresh out of prison and starting a new life in the US, Vietnamese dissident Tran Khai Thanh Thuy is hoping that rare public protests will escalate into a threat to the authoritarian leaders.
The 51-year-old writer said she was given just five minutes notice late last month that she would be released from prison, marking the first time in years that Vietnam has freed a prominent critic ahead of schedule.
Thuy believed that Vietnam was trying to please the US, which repeatedly raised her case, as Hanoi seeks to build relations in the face of rising tensions at sea with historic rival China.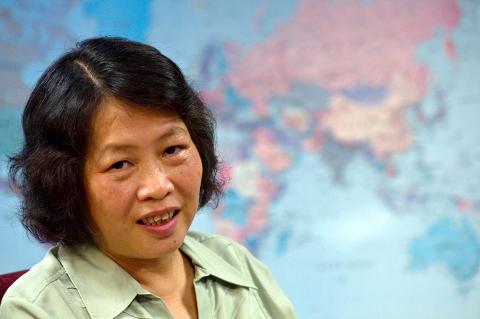 Vietnamese dissident Tran Khai Thanh Thuy speaks during an interview in Washington on Tuesday.
Photo: AFP
In another rare move, Vietnamese have taken to the streets, raising slogans against China. Authorities allowed protests for five consecutive weekends until Sunday, when they broke up the crowd and detained at least 10 people.
"The rising up of the students and youth is like a light shining in the darkness of Vietnam. They are green shoots growing out of the desert of apathy in the country," Thuy said in an interview on Tuesday in Washington.
"This will eventually lead to a day when the dictatorship will have to fall. The communist authorities are extremely worried about that," she said.
Thuy, who was accompanied by her 14-year-old daughter, plans to settle in Sacramento, California, with the support of the Vietnamese community including Viet Tan, the Vietnam Reform Party, an opposition group banned by Hanoi.
She is visiting the US capital to thank US lawmakers who raised her case along with Michael Posner, the assistant secretary of state handling human rights who pressed for her release on a visit to Vietnam.
Thuy, the author of numerous political essays and an editor of the dissident bulletin To Quoc (Fatherland), was initially detained during a 2007 crackdown and accused of spreading anti-government propaganda.
She was freed after nine months on medical grounds because of tuberculosis. However, she was arrested again in October 2009 and later sentenced to three-and-a-half years in prison.
Thuy and her husband, Do Ba Tan, were convicted of assault for allegedly beating two men with a motorcycle helmet, a brick and a stick during a parking dispute. The US Department of State disagreed with the account and said that unknown assailants attacked the couple, not the other way around.
"They arrested me to silence me, but they didn't want to bring political charges such as opposing the government as this would lead to international pressure. So they had to create a criminal case and arranged for this assault," Thuy said.
The US has welcomed warming relations with Vietnam, with which it fought a bitter war, but has insisted that Hanoi make improvements on human rights.
The State Department said Vietnam arrested at least 25 activists last year and imposed wide restrictions on freedoms including of speech. Vietnam says that it is making significant progress on human rights.
Thuy said that she was degraded in prison by wearing a sign branding her as a criminal. She said she shared a 50m2 space with more than 80 other inmates, with only two hole-in-the-ground toilets and public showers.
Thuy voiced concern for the fate of her husband, who has several months remaining in a suspended sentence on the same assault conviction.
"I worry that any day now, police may send someone to the house to spark some altercation and if my husband raises his voice or lifts a hand, then he will immediately be arrested," she said.
However, Thuy insisted that she would not be cowed.
"When I was in prison I was forbidden from holding a pen. Now that I have freedom, I plan to use my pen to write about the injustices in the Vietnamese prisons and communist system," she said.
Comments will be moderated. Keep comments relevant to the article. Remarks containing abusive and obscene language, personal attacks of any kind or promotion will be removed and the user banned. Final decision will be at the discretion of the Taipei Times.