North Korea threatens a 'sacred war' on neighbor
North Korea threatened yesterday to launch "a retaliatory sacred war" against South Korea for alleged slander as the two sides held rare talks on a stalled joint tourism project.
A Pyongyang government spokesman accused the South Korean frontline army units of displaying slogans slandering the North's "army, system and dignity" and said they are "little short of a clear declaration of war."
The unidentified spokesman, in a statement carried by the official news agency, vowed to respond to any provocations with a "merciless retaliatory sacred war."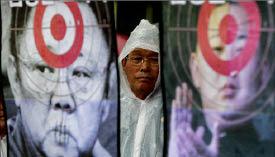 A South Korean activist stands between portraits of North Korean leader Kim Jong-il, left, and successor Kim Jong-un as he participates in a protest rally on the ninth anniversary of the second inter-Korean naval clash, in Seoul, South Korea, yesterday. Six South Korean navy soldiers died in the 25-minute skirmish near Yeonpyeong Island on June 29, 2002. North Korea lost 13 soldiers.
Photo: EPA
The South's Hankyoreh newspaper on Monday quoted some of the slogans as reading: "Let's stick swords and guns into the hearts of North Korean enemy army," and "A club is the only medicine for a mad dog."
The North made similar threats when South Korean reservists were found to be using pictures of Pyongyang's ruling Kim dynasty as rifle-range targets. That practice has since been stopped.
The latest warning came as 12 South Korean government officials and businesspeople traveled to a jointly-run mountain resort in the North to discuss the ownership of South Korean assets there.
Mount Kumgang opened in 1998 as a symbol of reconciliation and helped the impoverished communist state to earn tens of millions of US dollars a year. However, the South suspended visits after a North Korean soldier shot dead a Seoul tourist who had strayed into a restricted military zone in 2008.
Last year the North seized or sealed off several South Korean properties in protest at the failure to restart the tours.
On June 17, Pyongyang warned it would dispose of properties in the zone, and asked South Korean parties to visit Kumgang by today to discuss the process.
The South's unification ministry, which handles cross-border affairs, said the North should respect all agreements with private businesses and Seoul's government.
Comments will be moderated. Keep comments relevant to the article. Remarks containing abusive and obscene language, personal attacks of any kind or promotion will be removed and the user banned. Final decision will be at the discretion of the Taipei Times.