Palin's US bus tour plan fuels talk of 2012 run
Speculation was rife yesterday after former Alaska governor Sarah Palin announced a "One Nation" bus tour of the US and hinted at a White House run next year by saying: "I have fire in my belly."
The populist former US vice presidential candidate's move came as right-wing hopefuls jockey for position in a so-far lackluster field for the Republican nomination, from which two top-polling figures have recently withdrawn.
Palin's bus trip, starting in Washington tomorrow and going up through New England, will take her "through our nation's rich historical sites" over the coming weeks, she said on her Web site.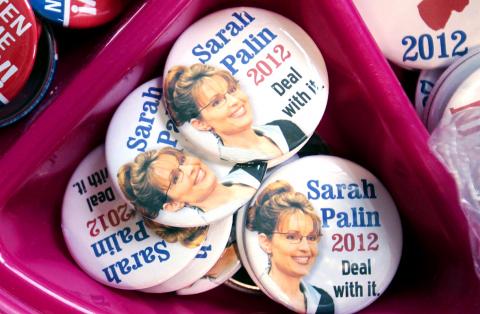 "Sarah Palin 2012" buttons are sold during the "Americans For Prosperity Foundation Summit" in Clarkston, Michigan, on May 1.
Photo: Reuters
"Our nation is at a critical turning point. As we look to the future, we are propelled by America's past. It's imperative that we connect with our founders, our patriots, our challenges and victories to clearly see our way forward," Palin said.
Speaking on television on Friday last week, she said: "I am so adamantly supportive of the good, traditional things about America and our free enterprise system and I want to make sure that America is put back on the right track."
"And we only do that by defeating [US President Barack] Obama in 2012. I have that fire in my belly," she told a Fox news interviewer.
The bus tour announcement came amid mounting speculation that the "Tea Party" favorite will throw her hat into the ring for the GOP nomination to take on Democrat Obama in next year's White House election.
This week, there were reports that Palin has bought a large house in Arizona, seen as potentially a better base for a presidential campaign than her northwestern US home state.
Palin, who was US Senator John McCain's surprise running mate in the last White House election in 2008, has also authorized a feature-length film about herself, further suggesting she is preparing to raise her profile significantly.
Recent polls suggest no great enthusiasm for any of the announced or potential candidates for the Republican nomination, with even leading figures like former Massachusetts governor Mitt Romney garnering less than 20 percent support.
Other Republican candidates like former Minnesota governor Tim Pawlenty, libertarian US Representative Ron Paul and former US House speaker Newt Gingrich have so far inspired even less excitement.
One survey early this month said Palin and property tycoon turned celebrity game show host Donald Trump were encountering outright rejection, with 58 percent saying they would never vote for either of them.
Trump, who had been flirting with running for months, announced days later that he would not be seeking the GOP nomination, while Christian right darling and former Arkansas governor Mike Huckabee withdrew from the race on May 15.
Palin confirming a White House run would certainly energize the Republican race, even as observers note that her selection as GOP candidate would be welcomed by some Democrats as all but guaranteeing Obama's re-election.
Asserting her patriotic credentials, Palin's tour bus proclaims "One Nation" above the tag line "Under God. Indivisible. With Liberty and Justice for All," and "We the people" over a US Constitution scroll.
"We'll celebrate the good things that bring Americans together; those things that will give us the needed strength to meet the heady challenges ahead," she said on her Web site. "I've said many times that America doesn't need a 'fundamental transformation,' instead we need a restoration of all that is good and strong and free in America!"
"So, together let's prepare ourselves for the days ahead by reminding ourselves who we are and what Americans stand for," Palin said.
Comments will be moderated. Keep comments relevant to the article. Remarks containing abusive and obscene language, personal attacks of any kind or promotion will be removed and the user banned. Final decision will be at the discretion of the Taipei Times.