FEATURE: Indonesians bored by ban on US films
CINEMATIC MIGRAINE: Fans are disappointed that Jakarata has yet to resolve its disagreement with big US studios, and fed up with watching old movies
Indonesian movie lovers are being starved of the latest Hollywood blockbusters by a drawn-out tax dispute, which has led US studios to boycott the country in protest.
Since the Motion Picture Association (MPA) stopped distributing films to Indonesia in February, cinema takings have tumbled as theaters try to fill the gap with local fare and B-grade foreign films dug out of the rejects bin.
Everyone is losing — except the sellers of pirated DVDs, who are enjoying a spike in sales.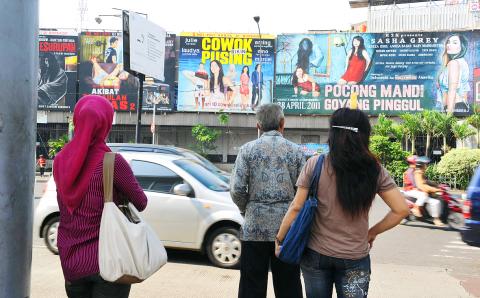 Pedestrians stand across the street from a selection of movie billboards showing locally produced films in Jakarta, Indonesia, on May 19.
Photo: AFP
"Customers are looking for titles like Fast Five, Black Swan and Thor because they can't watch them in the cinema," DVD pirate Yani said.
"They complain that my videos are low quality and they wouldn't watch them if they had a choice," Yani said. "But I can't complain, business is good."
She said sales had jumped 50 percent since the MPA took the drastic step of cutting off supplies of new Hollywood releases to Indonesian theaters earlier this year.
Elite Squad, a Portuguese film from 2007, and My Sassy Girl, from 2008. The newest US offering is Source Code, released last year.
Indonesian Cinema Companies Union head Djonny Sjafruddin said about half of all movies screened in Indonesia — about 130 films a year — were imported from the MPA, representing US studios including Warner Bros, Universal Studios and Twentieth Century Fox.
"Money-wise, that translates to 60 to 70 percent of the total income of cinemas here," said Sjafruddin, whose union represents 240 movie theaters nationwide.
"The MPA's move has clearly hurt us. We've reduced daily screenings from five to four and stopped midnight and weekend screenings. If this problem isn't solved, we may all have to shut down," he said.
The studios are reportedly disputing a 22.5 percent tax introduced in June last year on royalties they receive from the distribution of their films in Indonesia.
"The MPA felt it was unjustified. The government said it would resolve the issue but it's taking too long," Sjafruddin said.
Culture and tourism ministry official Ukus Kuswara said the government and MPA had negotiated a "win-win solution." However, he refused to reveal any of the details, and in the meantime the movies are still not being distributed.
"Let's just say it's not about the tax figure, but the imposition mechanism. There's a difference in perception but that's been sorted out now," he said, adding that US box-office hits would return to Indonesian screens soon.
The ministry's film department director, Syamsul Lussa, drew fire from frustrated film lovers last week for attending the Cannes Film Festival in France instead of staying to sort out the mess at home.
Many wondered sarcastically if he had enjoyed the Hollywood films screened at the prestigious event.
"We lose money and the public are denied their entertainment. Everyone's angry," Sjafruddin said.
A visit to two cinemas in Jakarta last week found fewer than a dozen people buying tickets for The New Daughter and Kung Fu Kid, both released in 2009.
"I thought the bigger cinemas would be showing new movies, but everything's so old. I'm so upset," said disappointed customer Nenny Triyana, 30.
Irene Ibrahim, 25, said she felt embarrassed for Indonesia.
"My friend in Bahrain posted on her Facebook wall raving about Thor and I'm here in Indonesia watching the trailer on YouTube. How pathetic," she said.
"The whole world is at film 'A' and we're at 'Z'. I don't care what disagreement they have. All I know is that as a movie fan, I'm left with no choice but to watch bad movies which give me bad migraines," she said.
One movie theater manager in Jakarta, who declined to be named, said staff were bearing the brunt of customers' frustrations.
"They have yelled at us asking if this means they have to go to Singapore or Australia just to watch a movie," he said.
Indonesia's blogosphere, meanwhile, is seething.
"The absence of Hollywood movies is an epic fail in this country," said Rizky Danurwindo, a blogger.
Comments will be moderated. Keep comments relevant to the article. Remarks containing abusive and obscene language, personal attacks of any kind or promotion will be removed and the user banned. Final decision will be at the discretion of the Taipei Times.