China, S Korea to boost Japanese relief
The leaders of China and South Korea agreed yesterday to bolster efforts to aid Japan's disaster recovery as they met with the Japanese prime minister to smooth over differences on Tokyo's handling of its post-tsunami nuclear crisis.
Japanese Prime Minister Naoto Kan hosted Chinese Premier Wen Jiabao (溫家寶) and South Korean President Lee Myung-bak in yesterday's summit. Japan hoped the meeting would present a unified front after Beijing and Seoul criticized its response to the nuclear crisis, and that it would lead to an easing of restrictions on the export of Japanese produce.
On Saturday, the three leaders met in Fukushima to demonstrate their joint desire for Japan's recovery from the March 11 earthquake and tsunami that left more than 24,000 people dead or missing and sparked an ongoing crisis at the Fukushima Dai-ichi nuclear power plant.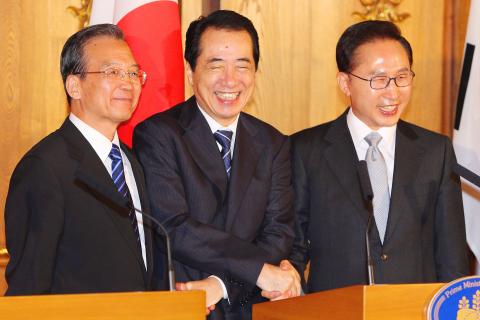 From left to right, Chinese Premier Wen Jiabao, Japanese Prime Minister Naoto Kan and South Korean President Lee Myung-bak yesterday shake hands during a joint news conference following their summit meeting at the State Guest House in Tokyo, Japan.
Photo: EPA/Yonhap News Agency
Kan led a moment of silence for the victims, then thanked China and South Korea for their assistance.
"We are deeply grateful for the great help and assistance provided by China and South Korea," he said.
Japan has been particularly concerned that excessive fears over the contamination of Japanese produce have led to unnecessary trade restrictions. China and South Korea had both expressed fears over Japanese imports, and criticized Japan for allowing the release of water with high radiation levels into the ocean.
In a statement after yesterday's meeting, the leaders agreed that safety measures should be based on informed policy and overreaction should be avoided.
Wen and Lee also agreed to bolster efforts to help Japan with its overall recovery.
Kan and Wen held a bilateral meeting ahead of the three-way summit, focusing on ways to boost tie-ups in disaster prevention, nuclear safety and Japan's recovery following the disaster.
Wen told Kan that Beijing will lift trade bans on food imports from two of the 12 Japanese prefectures, on which China has imposed trade restrictions, while not requiring radiation inspections on products other than vegetables, seafood and milk products, a Japanese official said.
Wen also promised Kan that Beijing would encourage Chinese people to travel to the country by licensing Japanese tourist agencies in China.
"This will be done for the first time," said a Japanese bureaucrat who attended the meeting.
Kan and Wen also discussed the visit of North Korean leader Kim Jong-il to China, a Japanese foreign ministry official said, effectively confirming Kim's visit.
However, it is unclear whether the discussions centered on media reports of Kim's visit or Kim's actual presence in China.
When asked if China confirmed Kim's visit, the official said he could not elaborate on the content of the talks.
"It is true that Kim Jong-il's visit to China came up in talks among the leaders, but we cannot comment on the content [of discussions]," a Japanese foreign ministry official told reporters.
"We did not ask them to explain, but it was one of the issues that came up" he said when asked if it was Japan who asked about the visit.
Meanwhile, South Korean officials in Seoul said Wen had confirmed that Kim was visiting China "to study its dramatic economic development."
Wen made the comment during a bilateral meeting with Lee on the sidelines of the Tokyo summit, said Hong Sang-pyo, Lee's spokesman.
It was the first official confirmation of a visit which began on Friday when Kim's special train rolled across the border.
Wen said the visit was intended "to provide the North with an opportunity to understand China's economic development and use the understanding for its own development," Hong told South Korean reporters in Tokyo.
The Chinese premier also made it clear that Beijing opposes a nuclear-armed North Korea and would work to create the environment for inter-Korean dialogue, Hong said.
Comments will be moderated. Keep comments relevant to the article. Remarks containing abusive and obscene language, personal attacks of any kind or promotion will be removed and the user banned. Final decision will be at the discretion of the Taipei Times.