Thousands fleeing floods in Australia
EXTREME WEATHER: Flooding is expected to peak in the coming days and not subside for another week, while extreme heat could spark wildfires in other parts of the country
Australia started forced evacuations of a major town yesterday as floods that have already affected 200,000 people swamped more communities in the stricken northeast.
As Australian Prime Minister Julia Gillard consoled evacuees, police moved the elderly and those in low-lying areas from Rockhampton, where 4,000 homes are at risk from floods paralyzing an area the size of France and Germany combined.
"Police will order people in affected areas to leave their homes," Rockhampton Mayor Brad Carter told the Australian Associated Press news agency.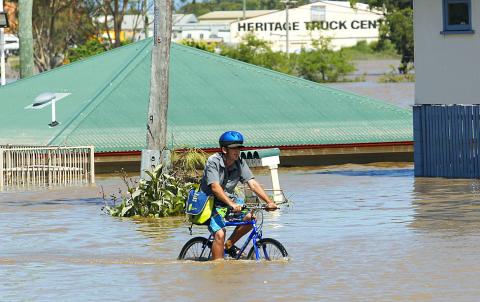 A man rides his bicycle on a street affected by flood waters in Bundaberg, Queensland, Australia, yesterday.
PHOTO: REUTERS
Meanwhile, military Blackhawk helicopters evacuated residents and dropped batches of food in Emerald, population 11,000, after 80 percent of the rural town was deluged by mucky waters.
Floods triggered by tropical cyclone Tasha have hit the farming and mining belt near Brisbane particularly hard, cutting road and rail links and crippling the region's all-important coal production.
As river levels continued to rise, about 22 towns were inundated or isolated, with sugar cane center Bundaberg, known for its rum, divided in two by the floodwaters.
Shops, homes and businesses have been swamped by the murky tide, with cars submerged and caravan parks sitting meters deep, as residents take to boats and kayaks to negotiate the waters.
Gillard made a "humbling" visit to a Bundaberg evacuation center sheltering refugees from the floods, who now number in their thousands state-wide.
"As devastating as these floods are, we are seeing a magnificent -response by all levels of government and by emergency -personnel," Gillard told reporters. "The overwhelming sentiment is one of resilience and one of care and concern for their neighbors. That sense of community pulling together, that Australian sense that when times are tough we work together and look after each other."
The Bundaberg Chamber of Commerce said yesterday it could take businesses months to get back on their feet.
"By the time the water has gone, the insurance claims are paid and work is back into order, we might end up being a couple of months before some businesses are back in full trade," chamber president Dion Taylor told the Australia Broadcasting Company.
Queensland Premier Anna Bligh called the situation "dire" in some parts of the state, which is facing one of its worst ever disasters and a damage bill running into several billions of dollars.
She warned that the crisis was far from over, with some floods set to peak in the coming days and not subsiding for another week, and relief and clean-up operations lasting for weeks afterward.
"We now have three major river systems in flood, we have 17 evacuation centers active, we have more than 1,000 people in those evacuation centers, and many more thousands staying with relatives and friends," Bligh said. "And we've still got major places like Rockhampton with floodwaters coming down the river and what may well be the biggest flood they've ever experienced. So a lot more to go before we can really say we're in full recovery mode."
Yesterday, Bundaberg's port was closed to all shipping because of choking detritus washed downstream, while Rockhampton airport was expected to be shut this afternoon.
Industry giants Rio Tinto and BHP Billiton are among a group of companies to announce production problems at mines churning out nearly a quarter of Australian hard coking coal exports — much of it bound for Asian steel mills.
Huge quantities of ruined crops are expected to send prices of bananas, mangoes and sugar soaring, while officials are concerned over food shortages in isolated areas and possible disease outbreaks from contaminated water.
Meanwhile forecasters warned that another cyclone was forming off Western Australia, on the other side of the country, while extreme heat posed a wildfire risk in South Australia and Victoria.
Comments will be moderated. Keep comments relevant to the article. Remarks containing abusive and obscene language, personal attacks of any kind or promotion will be removed and the user banned. Final decision will be at the discretion of the Taipei Times.