Car in Italy ploughs into cycling team, kills eight
A car driven by a man without a license and who had been using illegal drugs ploughed head-on into a team of amateur cycle racers in southern Italy on Sunday, killing eight and injuring two others, police said.
The driver and a young boy in the car with him were also injured, said Maria Dolores Rucci, commander of the road police in nearby Catanzaro.
Bent, mangled bikes were strewn about the scene, and the sheet-draped corpses dotted the two-lane road near Lamezia Terme, in the Calabrian "toe" of boot-shaped Italy where the accident occurred.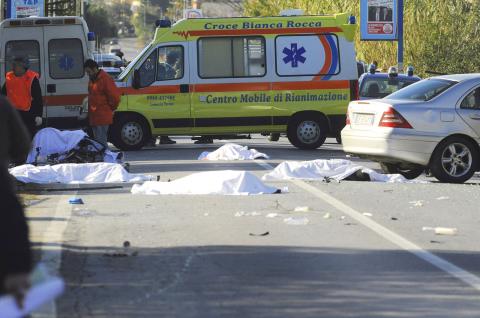 The bodies of four bicycle riders lie on the road following an accident in Lamezia Terme, Italy, on Sunday that killed eight cyclists.
Photo: AFP
The dead were men ranging in age from 35 to 58.
A preliminary investigation showed the speeding car ran headfirst into the group of 10 cyclists who were riding in the opposite direction on state road 18, Italy's highway authority said.
The ANSA news agency said the driver was trying to pass another car when he hit the group. Visibility was good at the time, reports said.
The driver, a Moroccan immigrant, was arrested and charged with multiple manslaughter.
Police said blood tests showed the man was under the influence of marijuana. They said he was driving illegally because his license had been withdrawn six months ago for dangerous driving.
The head of Italy's cycling federation, Renato Di Rocco, denounced the violent "massacre" of the cyclists and sent his condolences to their families.
Comments will be moderated. Keep comments relevant to the article. Remarks containing abusive and obscene language, personal attacks of any kind or promotion will be removed and the user banned. Final decision will be at the discretion of the Taipei Times.